Innovation has just made us stunned! After so many efforts June intelligent oven is now available for every one around the globe. June intelligent oven is the first oven which has built- in artificial intelligence. This oven is build for those who are so much busy and do not have time to cook but still they prefer to eat home cooked meal. Truth is there is nothing like a meal which is cooked into perfection and purely home made. You cannot find a taste like home-made meal any where else in the world.
Also a good news for those who do not have any idea about cooking but still have to cook. This oven is designed to work beautifully and intelligently. A chef within an oven! That thinks and cook like a chef. It heats up faster and smartly to cook the meal perfectly. It has dual fans inside it which helps this oven to heat up 33% faster then other ovens. This oven acts like an assistance. You just have to put your meal into this oven and you are free to do your other tasks. June oven will handle the rest.
It is easy to clean as it has removable door panel and also have crumb tray. No sharp edges or angles to trap food. More interesting fact is: this oven has a HD camera. Wow! which means that whatever you will cook this super intelligent home chef will know and will guide you through its preparation and you will also be able to see your meal come to life in real time.
According to Wall Street journal, "June intelligent oven can connect to internet and will recognize what you want to cook and will automatically cook that meal for you". Now it has so many things and can cook so many delicious food. what makes it more incredible is that you can control this intelligent oven through June app by customizing the notifications on your cell phones. which means it provides you with a total peace of  mind.
For food lovers, this oven is a blessing. Now, they do not have to worry about what they should eat and from where? because it will help them to make every food dish that they have always wanted to eat without spending more money or time.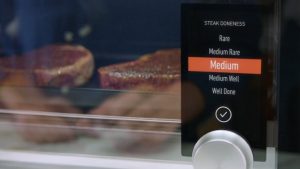 This innovative, intelligent piece of technology is of worth $14,95. Hell lot of money! to buy this piece of intelligent home cook chef. Through pricing, it seems like only rich can afford this oven and other classes of this society have to wait till the prices go down or just have to forgot about buying this artificial intelligent chef.