Takhti.com is an initiative by a Pakistani Adeel Imtiaz to facilitate Pakistani students. His major aim was to provide a free and quality education for all.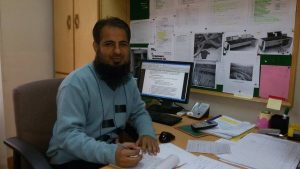 Adeel is Maintenance Engineer at Fauji Fertilizers Company Pakistan.He started his journey by making youtube videos for students related to topics focusing Physics i.e. Machines and Electronics etc. But later he took  a step forward and moved from a youtube channel to a website Takhti.com. Reason behind the website was to offer a single platform to Pakistani students to get information and video tutorials about all the topics covered from junior level to FSc classrooms.
In Pakistani schools its very rare to guide the students about the practical usage of knowledge unless its a very expensive private school or college. But rather the major concern is all about good grades and positions in respective education board. Students are not sensitized to get the topic so they should apply it in their daily life or later when they start working in field, they should apply the knowledge over there. But Alas its very rare too resulting in a collapse of our major organizations. Students have the degrees but don't know how to convert that knowledge memorized or crammed in some way into the required skill.
Language is another barrier for the students of Government institutes or low level private institutes. Its very tough for the students to prioritize that either they have to learn the concept or cram it in English as our mother tongue is Urdu. So, its easy for students to grab the concept in Urdu language.
Adeel website Takhti.com is a blessing for those who are eager to learn. Takhti.com has 4 categories for video learners from junior level to college level:
Junior Online Educational Library
Science Online Videos
Matric Classroom
FSC Classroom
1.Junior Online Educational Library
This category has all the material for kindergartner and pre-primary level school kids. It has further sub-categories like English vocabulary, Maths, Islamic and English Stories, Physical Education,Urdu Cartoon, Urdu and English Rhymes, Health and Safety,Drawing,Islamic Manners, English Dialogue, Clue Finder,Science and different projects and activities related to them.
2.Science Online Videos
This category has  educational resources for primary level students from grade I- V. It has different videos related to Science course regarding Simple Machines,Ecosystem, Global Warming,Pollution, Rock and Volcanoes,Force,Weather,Earth and Stars,Pollution, Animals and Energy. These videos help student understand the topic clearly rather cramming it for a science test and then fade away all the crammed data.
3.Matric and FSc Classroom
Matric and FSc Classroom, these both categories are about covering major science topics related to Biology, Chemistry and Physics. These sections have further sub-categories for different sub-topics. As we all know in Matric and FSc student focus on making practical notebooks and decorating them to get good marks in practical but major concern for taking science course is all left behind.So, these videos are here to help you out to understand the concept and logic.
Links of Adeel Imtiaz youtube channel is here and you should also visit Takhti.com and suggest it to all the teenagers and if you are a parent or teacher, its also a very good resource for you to help teach your kids.
Read more: 70 MS-Excel shortcuts you want to know.