After a brutal distributed denial of service attack (DDoS) that took place at large scale, shutting down half of the interent yesterday, Dyn blamed faulty and out-dated Internet of Things devices that served the purpose of attack.
Here is how hackers managed to breach into Dyn's Managed DNS infrastructure:
A distributed denial of service (DDoS) attack is an attempt to make an online service unavailable by overwhelming it with traffic from multiple sources. The attackers use multiple machines spread across the globe to attack a central server. These server requests choke the network and hardly allow any legitimate request to get through. Thus, when a users tries to access the affected server, they're met with a message that it is no more available. According to Digital Attack Map, more than 2000 daily DDoS Attacks are observed world-wide by Arbor Networks. These numbers are huge but majority of the attacks are carried out at small scale.
Yesterday's attack was different than previous attacks. The reason why this attack was so massive relates to how it was carried out.
Instead of attacking individual servers at websites like Twitter, Amazon, Reddit, and GitHub, the attackers chosen to go after Dyn — a Domain Name System (DNS) provider that is responsible for converting human-readable websites addresses (like "lhe.io") into their respective IP addresses.
According to DynDNS, the hackers used connected devices  like routers, smart hubs, thermostats, smart locks etc. to attack Dyn infrastructure, resulting in servers that couldn't handle any more request from legitimate user due to massive number of requests at the same time. The devices that were supposed to work for the owners, went rogue ans started attacking the network.
Notwithstanding the DynDNS efforts to keep the servers up, it went down, along with every single website or service that uses its managed DNS service, blocking millions of users to access those websites and services.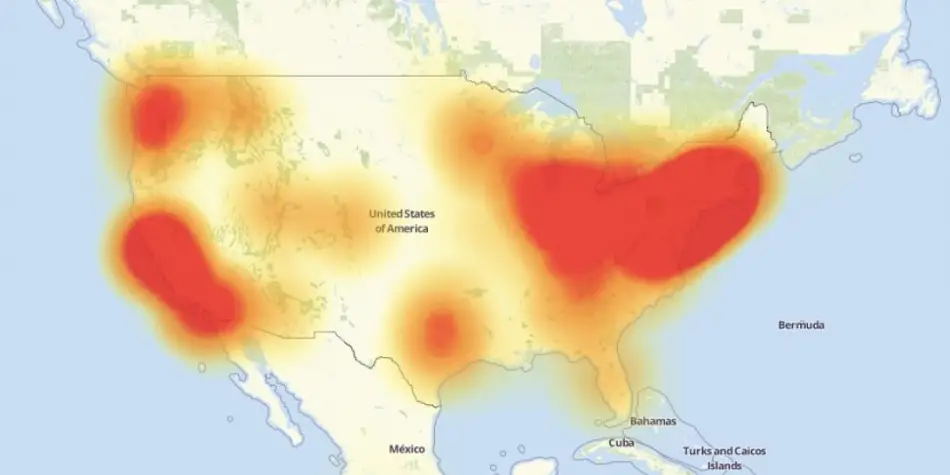 Following were the notable websites and services that fell into victim to yesterday's deadliest cyber attack:
Business Insider
CNN
Etsy
Github
Guardian.co.uk
HBO Now
PayPal
People.com
Pinterest
Playstation Network
Recode
Reddit
Spotify
Starbucks rewards/gift cards
Storify.com
The Verge
Twitter
Weebly
Wired.com
Yelp
Zendesk.com
Netflix
Fox News
Disqus
Shopify
Soundcloud
Indeed.com
New York Times
Weather.com
WSJ.com
Time.com
xBox.com
BBC
Blue Host
Vox.com
Fortune
CNBC.com
FT.com
It is still not clear who is behind this giant attack and what was the real motive, but it has shaken the Internet in the US. The FBI and Homeland Security Department of the United States has started investigating the matter and in coming few days, we can expect to receive further update regarding the attack.
If you like this article, please help us by sharing this article on your social media profiles and by spreading good words about Lhe.io. You may also want to follow us on Twitter, Google+, Linkedin and Facebook.