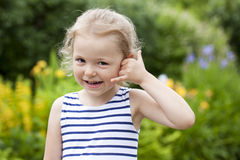 Had you ever thought to make a phone call by just holding your finger into your ear. Probably some of us were fond of making calls like this while playing in our childhood. Sgnl is converting your this dream into reality, it is a smart strap that enables you to answer phone calls through your fingertip. You just have to place your fingertip to your ear and speak through the embedded microphone in strap. You just have to replace the existing watch strap with Sgnl and you're done, whether you wear a classic watch or an Apple Watch, Samsung Gear, or Pebble Time.
Don't miss: A HandEnergy Pocket Electricity Generator.
By wearing Sgnl you can keep your cell phone alone in your pocket/bag and simply raise your hand to answer a phone call without carrying any extra headset or earphone.
Sgnl is not just a replacement of your headphones, it also has incredible feature of noise blocking. So, that you can hear the call clearly. Call privacy is the another plus of Sgnl, it transmits the sound in a clear way without other people listening in.
Major Features
Immediate Call Reception-You don't have to take phone out of your pocket or bag, it works on bluetooth
Voice Clarity-Removes the background noise and make the voice clear.
Listening Privacy-Don't raise the caller voice so that other people may hear in.
How Sgnl works?
Sgnl uses Bluetooth to recieve voice signal from phone then it generates a vibration through an actuator Body Conduction Unit (BCU) and transmit it through your fingertip. By placing your fingertip to your ear, the vibration echoes to create amplified sound within the closed space of your ear. Keep in mind these vibrations are not harmful.
Technical Specifications
Connectivity: Bluetooth/ Bluetooth Low Energy
Compatibility: Android 4.4 or newer, iOS 8 or newer
Charging Time: 1 hour
Sensor: Accelerometer and Microphone
Water Proof: Dust and Water protected.
Sgnl is available in different colors i.e. Black, Grey, Brown, White and Navy Blue.
If you want this watch, you can pre-order it form Sgnl website.