We all are seeing posts, articles regarding to "Black Friday". Social media is being boomed by the name of this once a year celebrated discount tradition. Up till now,  we all have memorized which website is offering discounts on what items. It seems like every online shopping website is on the race with each other to provide their users with best quality at a discounted rate. It will be appropriate to call "Black Friday" as "Black Friday marathon" between the companies.
Apple is entering into this marathon for after a long pause in time. Yes! Apple Inc. hadn't celebrated "Black Friday" before with this zeal. Good news though! Now people do not have to buy their favorite Apple gadgets through any third party instead Apple is offering what their customers were waiting for till the date. Apple is going to save the day by organizing one-day sale on November 25,2016.
It is still a mystery about what Apple products are going to be displayed for the Black Friday sale. Apple wants to surprise its customers. We hope that this surprise will leave a positive mark on our hearts. Apple's website is currently teasing an Apple watch that says " Come this Friday to check everyone off your list". Must Say! a good marketing approach by Apple "sell  the idea before you create it".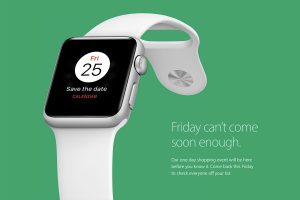 The question is "Why  Apple  didn't celebrated this Friday before?"
The answer is apple did try to celebrate this event several years ago but Apple had to face a big lot of criticism. Critics argued that deals given by Apple were hardly deals. Now here, other questions arise "Will this year deals would be enough for Apple to gather customers?" and also "What has changed Apple's mind?".We can only know answers to these when we will get to know what Apple is offering till then we just have to wait for November 25,2016.
Read more about: Black Friday & Cyber Monday Hosting Deals Up to: 88% Discount (2016)