We now need to admit it that browsers are becoming boring now. There are 80% chances are you are using internet on Google Chrome meanwhile. And if not, then possibly you are using Firefox or Opera browser. And if you're on Internet Explorer, then by the time you will be reading this article, it's going to be 2020.
Apart from the jokes, there are not really many options for browsers beside those stated above. Browsers don't frequently get updates that fetch for some material changes in cosmetics or the browser functionality. In the present time, browsers are just not as fresh and receptive as they used to be. Nevertheless, one of the companies mentioned above is now looking to change that. Any guesses?
Meet the Opera Neon
Yes, it is Opera Browser! Which is bringing the Opera Neon. Opera Neon is also a browser that provides you a sight into the future of desktop browsers. Neon is intended to play with a cluster of unproven design ideas. It might not be prepared yet to take place of your default web browser (because Opera is still saying it a "concept browser") but it comes pretty close. And in my testing it was just as steady as any other browser and I didn't experience any slow-downs or bad crashes. Opera is presenting a new concept browser which showcases new ways to interact with the web. The Opera Neon browser is built on the same engine as Opera and is available to preview on both Windows and Mac.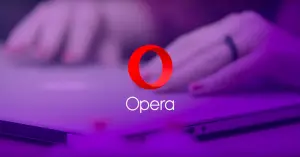 Opera Neon's Distinguishing Features
The browser has some pretty immaculate ideas that are much amazing to try out. By starting Opera Neon, you will be able to observe some dominant and big differences right at the start. The background that is being used at the start page is the identical as your desktop background. And also you will be noticing circles with some default websites on them. This is the new tabs page and you can either delete these, click on them to open or rearrange them. Your bookmarks will also appear up here right alongside them.
Save your Favorite Website
Opera Neon tries to change a lot of things about traditional browsing. It simplifies the concept of tabs and favorites and turns them into floating circular icons instead of traditional text and image. If you like some site and want to save it for later, you have an address bar too. Just enter a link and it will show up as a bubble tab on the right side of the browser. From there you can even drag the bubble to the main page in order to save it for later. This is a much better way to save your favorite websites instead of relying on the browser itself to figure out what you like to visit the most. You can think the bubble tabs as those bubble chat heads that you get on the Facebook Messenger. Visually, it is very cool.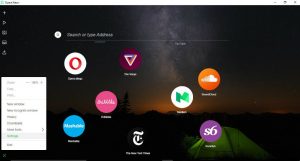 Split-Screen View
Neon also supports split screen view so you can open up two tabs at once for multitasking like you can keep watching a video while browsing some other site. In order to do that, just merely drag one of the tabs up and just place it next to your currently open tab.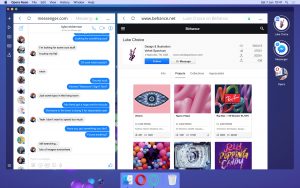 Snap Tool
There's also a sidebar on the left that lets you control audio and video feedback. Other than that, there's a recent downloads option and a "Snap" tool. Basically, Snap is Opera's built in screenshot tool that lets you take a screenshot of the whole website by cropping it.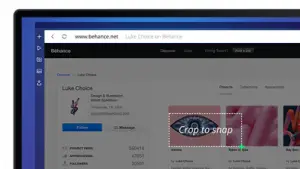 Video Pop-up
Neon supports video pop-out, just like the regular version of Opera. Just simply open a video and from the left sidebar, open the video control and click on the tiny pop-out button. A small window will then pop-up and then you can either resize it and move it around.
The incognito window also looked…interesting. Everything is the same except it doesn't pull your desktop background and instead uses another image. Why not to watch its short video?
For Opera Neon and its future vision, Krystian Kolondra shared fews words which are:
"Web browsers of today are basically from the last millennium, a time when the web was full of documents and pages. With the Opera Neon project, we want to show people our vision for the future of the web."
Wrapping it up, it is a pretty cool browser and definitely different than any browser you have ever tried in the past. Opera insists that it can't be used as your everyday browser since it it is still a "concept" and it may crash at times, causing you to lose your data. Anyhow it is currently available at its website.
If you want to receive weekly blogging tips, tutorials, plus news & discount coupons, please subscribe to our newsletter. You can also follow us on Twitter,  Google+,  Linkedin and Facebook.
To Read More: Google Is Planning To Promote IT Development & E-Commerce In Pakistan