About Sheikh Nahyan
Nahyan is Chairman of Warid Telecom International (a regional telecoms group based out of Abu Dhabi with operations in Pakistan, Bangladesh, Uganda, Congo Brazzaville, and Ivory Coast). He is also chairman of the Abu Dhabi Group, Union National Bank, and United Bank Limited. Nahyan has taken a keen interest in Pakistan-United Arab Emirates Friendship.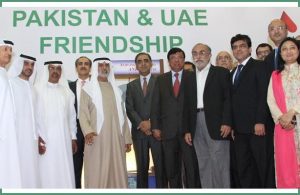 He is one of two Emirati royals, that own estate with a personal game reserve near the mouth of the Indus River in Sindh Province used for falconeering and hunting; the other royal being the late Sheikh Zayed. Nahyan's Abu Dhabi United Group is a large investor in Pakistan. It owns Bank Alfalah, Warid Telecom, Wateen Telecom, Taavun and many more in Pakistan. He is also Founder Chairman of Bank Alfalah. Sheikh Nahyan Mubarak Al Nahyan is also recipient of Pakistan's highest civilian award, the Hilal-e-Pakistan, which was conferred upon him by the President of Pakistan in 2005. Sheikh Nahyan Bin Mubarak Al Nahyan, heads the United Arab Emirates Ministry of Culture, Youth, and Social Development.
Chairman of Bank Alfalah
Sheikh Nahyan is now the founder of Bank Afalah Limited. He has taken control over the bank as its new chairman replacing his brother Sheikh Hamdan Bin Mubarak Al Nahyan. The business strategy of the bank will likely witness a change of course with the new chairman as Pakistan has been an emerging market for foreign investors with the progress of mega project of China Pakistan Economic Corridor (CPEC). The new chief of Bank Alfalah has been long associated with Pakistan having investment interest in different sectors including financial, telecom and real estate sector. Sheikh Nahyan is also the Chairman of Dhabi Group having operating subsidiaries in Pakistan such as Warid Telecom and Wateen Telecom which have been undergone a transition stage of business. Warid Telecom has been merged with Mobilink whereas the deal to sellout Wateen Telecom has not been sealed with a potential buyer either Telenor or Mobilink. Tavuuan is a subsidiary of Dhabi Group, a partner of Punjab Government, which makes investments in different projects of telecommunication, financial, real estate and healthcare businesses.

Sheikh Nahyan Mubarak Al Nahyan is also a recipient of Pakistan's highest civilian award, the Hilal-e-Pakistan, which was conferred upon him by the President of Pakistan in 2005. The central bank will issue its formal No-objection certificate shortly. Recently, the service contract of CEO of Bank Alfalah Limited Atif Bajwa has been revised by the board of directors to a third term being a President and CEO of the bank. Bank Alfalah Limited is the six largest bank in Pakistan by size with 655 branches operating 225 cities including 11 international branches in three countries including Bahrain, Afghanistan, and Bangladesh. In 2015, the bank has entered after 17 years of its inception. The official color has been changed from Deep Blue to Crimson Red and the logo has also been chnged. Meanwhile, the Vision & Mission statements have also been revised.
If you want to receive weekly blogging tips, tutorials, plus news & discount coupons, please subscribe to our newsletter. You can also follow us on Twitter,  Google+,  Linkedin and Facebook.
To Read More: Apple's iPhone 8 might include wireless charging and facial recognition