We can now see the significant changes in the world. World is rapidly moving towards digitization. Every department and every field whether it is medical, business or any other, all are now quitting the manual tasks and starting automated machines. It makes work efficient and saves the time as well. Recently many such digital and robotic changes have been introduced in Pakistan like Snatched Phone Tracing Software, Phone Calls Locator, NADRA E-Payment Facility and many more . And now E-Stamp is brought to you for more ease.
Concept
There are two types of stamps: Judicial and Non-Judicial, used for collecting stamp duty under Stamp Act 1899.  Judicial Stamps are used in relation to the administration of justice in courts and non-Judicial Stamps are used on documents related to the transfer of property, commercial agreements etc. The non-judicial stamp papers worth above Rs. 1,000 are referred to as high-value Stamp papers. These Stamp papers are only issued by the Treasury offices of the district. Almost 95.89% of revenue under stamp duty is collected from these high value stamps. In this manual system, issuance of high value non-judicial as well as judicial stamp papers begins with assignment of a number and head of account on form 32-A by treasury office and deposition of Stamp fee along with all taxes through Challan Form 32-A either in the State Bank or National Bank. The original challan after due payment is handed over to treasury officials. Scroll / Payment Information is received by the Treasury Office in 24/48 hours. The buyer or his agent receives the stamp paper after two to three days from the treasury office.
E-Stamp
The E-Stamping system is online and any person desirous of purchasing high value non-judicial / judicial stamp papers can access the system by a simple internet connection. The value of stamp duty will be calculated on the basis of data provided by the buyer (area of the land, location, covered area, commercial / residential etc.) and DC valuation tables built into the system. The names of the buyer, seller and the person through whom stamps are being purchased will be entered into the system along with their CNIC numbers. Could you ever imagine that stamping process will also be digital one day? No? Neither I did ever imagine. E-stamp papers are here for you to get rid of your numerous manual stamp-problems and upon the things over which government employees overcharge you for. Faking stamp papers, trading them for a more price than stated on the paper and issuing stamp papers for an older or previous date will no longer be probable. The e-stamp paper plan was completed by Government of Punjab in association with Punjab Information Technology Board (PITB), Board of Revenue and Bank of Punjab (BoP). Meanwhile, this umbrella will be covering more than 30 districts in Punjab. Following this E-stamping Project, about 7000 judicial e-stamps of worth Rs.33 Million has been issued by Board of Revenue and Punjab Information Technology Board (PITB). Real-estate agents and regular property buyers/sellers will be making use of the E-stamps for property transactions. These will be valued at more than Rs. 1,000 for non-judicial stamp papers and any value for judicial stamp papers. With much ease, one can make use of the e-stamp papers anywhere within the Punjab province as well. The process will save time as well. You will not need to get through the manual process and wait for 3 days to get it done. Instead you can get it done in just under 15 minutes. Earlier you would have to submit the stamp paper to the office of the sub-registrar, cooperative housing societies, housing authorities etc. They will now be provided access to the verification system via web or SMS, streamlining the process and creating it hassle-free for all stakeholders.
Salient Features
Online Generation of Challan 32-A
Pay CVT, Registration and Comparison Fee
Calculate DC Rate
Re-Print Challan 32-A
Pay Deficiency and Penalty
Verification through WEB / SMS
Extensive Reporting
Reconciliation with Banks
How One Can Get an E-Stamp?
Head to www.es.punjab.gov.pk and fill out the Challan form 32-A.
Get the form printed out and go to any branch of the Bank of Punjab.
Pay the stamp duty along with the Challan form to get the e-stamp paper then and there.
Once you receive the e-stamp paper, you will need to get it verified by sending an SMS to 8100.
Type estamp followed by the 16-digit stamp number and hit send.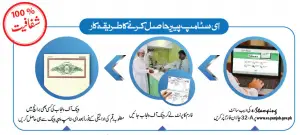 There is also a helpline: 0800 – 08100 available from 9 AM to 5 PM in case you run into trouble or need help with something. The Government of Punjab and Punjab Information Technology Board (PITB) announced judicial e-stamp papers in all the districts of Punjab on December 23, 2016 in order to enable people to pay their court fee through e-stamping. The non-judicial e-stamping system is already working in all 36 districts of Punjab since October 2016. Judicial Stamps are being used in relation to the management of justice in courts and non-Judicial Stamps are being utilized in the matters which comprise the transfer of property, commercial agreements etc. The new system has changed the 70-year-old system of problematic stamps and has also lessen forgery and fraud. Under the new structure, people are able to get stamp papers within 15 minutes instead of three days and they do not have to pay regular visits to offices and banks. The online process is simple to follow. People just have to fill online challan form and then submit it in the nearest Bank of Punjab branch to get an e-stamp paper. They can verify the e-stamp through the web afterward or by sending the 16-digit e-stamp number mentioned on the paper via SMS to 8100.
To Read More: Police To Trace Smartphone Calls Through 4G Locators In Sindh