Conduction of Workshops
Pakistan Telecom Authority (PTA) and Ministry of IT and Telecom (MoIT) is at work for the propagation of modern technologies in Pakistan and gives stress for the capacity building of Pakistani IT & Telecom community on advanced Technologies. PTA has taken quite a lot of steps toward awareness and equity of modern technologies and capacity building of IT and Telecom sector of Pakistan. PTA and HEC Conduct Workshops on Network Technologies & Security. Pakistan Telecom Authority (PTA) and Higher Education Commission (HEC) are mutually steering, DNSSEC, IPv6, Campus Network Design & Security Workshops and conference, in collaboration with SANOG (South Asian Network Operators Group) on 23-30 January 2017, at HEC Islamabad.

PTA has conducted several training lineups on IXP operations, Big Data, IPv6 routing, Internet Resource Management (IRM) and DNSSEC in collaboration with international firms like ISOC, ICANN, NSRC and APNIC at Lahore Karachi and Islamabad. Higher Education Commission (HEC) has also taken several steps towards the capacity building of Pakistani Network Community and arranged Pakistan School on Internet Governance (PKISG). PTA and HEC are working together for the awareness of Pakistani Community and capacity building of Academia, IT & Telecom and Network Operators.
PTA, HEC and PKNOG
PTA, HEC and Pakistan Network Operators Group (PKNOG) have joined hands together which has been developed by group of volunteers from different organizations and academia, to enhance awareness of modern Internet technologies, capacity building and to provide platform for technical discussion and support within the Pakistani networkers' community. It is to conduct South Asian Network Operators Group (SANOG) at HEC, Islamabad on 23-30 January 2017.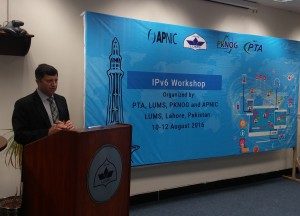 PTA and PKNOG have coordinated with different international organizations to conduct training programs at different cities of Pakistan like Karachi, Lahore and Islamabad. In response to PTA and PKNOG's continuous efforts, APNIC (Asia Pacific Network Information Centre, responsible for allocation of IP addresses (IPv4 & IPv6) in Asia Pacific region) has agreed to conduct two training programs at Lahore and Karachi.
Schedule & Registration
SANOG is a capacity building activity, where renowned international trainers train local community on modern network technologies. First three days of the event have been dedicated for Conference on modern Network technologies, followed by three parallel, five days' workshops on "Campus Network Design and Security", "IPv4/ IPv6 Routing" and "DNS and DNSSEC". SANOG is also backed by several international organizations, working for the development of Internet, like ICANN, ISOC, APNIC and NSRC. This is very unique opportunity for Pakistani network professionals to learn from renowned international experts who have vast experience in their respective fields. Networking professionals from IT & Telecom sector, academia and students with relevant background can register directly at SANOG website. It has also offered early bird discounted fee till specific date.
Read More: Apple's CEO Tim Cook's Pay Slumps For Missing Targets