WordPress 4.7 was released on December 6th and it is one of the biggest WordPress releases in recent years. It comes with some major new features and several bug fixes. These major changes in WordPress 4.7 can potentially transform the way you use the WordPress on daily basis.
Following is the list of features & improvements that comes in WordPress 4.7:
New default theme — Twenty Seventeen
Rest API end points
Video headers
Theme starter content
Edit shortcuts
PDF preview support
Custom CSS support
PHP Post Type Templates
Editor improvements
Language control
In this article, I'll go through all above features one after the other and will discuss how it will improvement your WordPress experience.
Important: Remember to first backup your website contents & database before you apply new update.
1. New Default Theme — Twenty Seventeen
Since WordPress 4.7 is the last major release of 2016, WordPress has released on default theme Twenty Seventeen following their traditions.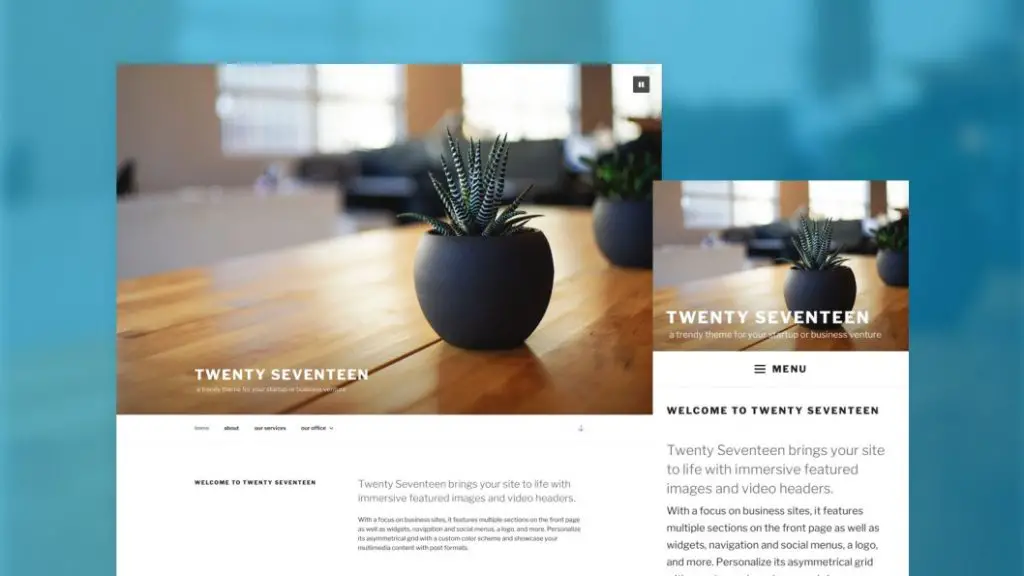 The new WordPress theme focuses on business sites instead of blogs and features a customizable front page with multiple sections. It is also built to work fine with widgets, navigation, social menus, a logo, custom colors, and more. It supports multi-lingual, and comes with starter content too to help you get started.
2. REST API End Points
This is indeed an important addition to WordPress 4.7 features list. WordPress 4.7 comes with REST API endpoints for posts, comments, terms, users, meta, and settings. What it essentially means that you can access all of your WordPress blog or website posts, comments, users etc. public data via REST API. It is especially useful if you're intended to increase your audience reach by developing smartphone apps. It should've been added before.
These REST API end-points are not just limited to Android or iPhone development usage, you can also use them to integrate your WordPress with other 3rd-party applications such as React.js, CakePHP etc.
These REST API content endpoints can be viewed as a collection of predefined URLs that make a WordPress blog's public data in an easy-to-use format called JSON (JavaScript Object Notation) that is well understand by other 3rd party applications.
You can easily found your own WordPress blog REST API end-points. Following are the Lhe.io end-points for posts, comments and users:
3. Video Headers
Sometimes a big atmospheric video as a moving header image is just what you need to showcase your products or services. Now you can achieve this in WordPress 4.7 as it comes with video headers support for themes. Though, many free and premium themes already come this functionality but it will help developer to integrate the video header editing with in customizer with live preview.
Need some video inspiration? Try searching for sites with video headers available for download and use. You can upload your own video in MP4 format or can use YouTube or Vimeo video as website header.
4. Theme Starter Content
Starter content is a great way to setup the WordPress blog or website quickly. Almost all of the premium themes come with a set of predefined demo designs that customers can use to import into their WordPress website. These starter contents serve the purpose to immediately go live with dummy data, which customers can later edit to meet their own personal requirements.
WordPress 4.7 brought this functionality to core to allow theme developers to automatically add starter content into the site. These contents can range from placing a business information widget in the best location to providing a sample menu with social icon links to a static front page complete with beautiful images. However, nothing will appear on the live site until you click on save button in customizer to publish your changes.
5. Edit Shortcuts
You can now "Edit Shortcuts" in WordPress 4.7 customizer live preview. These shortcuts are small blue icons placed on editable items in your WordPress theme's live preview. It can help beginners to quick find the shortcuts on web page and update them on the fly.
Since it is a new feature and is highly likely that it is not available on your website yet. So don't be surprised if you try to find and meet the disappointment. Not all WordPress websites are fully using the latest version features. Developers will take time to integrate these features in future updates.
6. PDF Preview Support
You don't need to use any 3rd-party plugin to generate and show PDF file thumbnails in your WordPress website. WordPress 4.7 now automatically generates thumbnail previews for PDF files and displays them in media library. Previously, when you uploaded a PDF document WordPress showed a generic document icon.
WordPress 4.7 uses the first page of PDF file as thumbnail preview and it is generated at the time of uploading file. Then the image is converted into different sizes to show in media library, media upload popup, and attachment pages.
7. Custom CSS Support
This feature is pretty cool for geeks who want to tweak their WordPress site to add custom features or change the design of any element. This is in fact big for me. You can now make CSS changes in customizer with live previewing, thanks to a feature that's available by default in WordPress core!
In past, it was not possible to do this without installing a plugin (an extra overhead to just install a few lines of CSS code) or using child theme. Both options add extra complexity for people who are not familiar to programming. Plugins installation may also effect the WordPress site response times.
Custom CSS in the customizer is the permanent solution to these problems. For small code changes, it's easy to install CSS changes via WordPress core instead of relying on extra plugin or child theme.
8. PHP Post Type Templates
WordPress already has custom page templates support which allows users and theme developers to create different layouts for pages.  In WordPress. 4.7, this functionality is extended to to all post types including custom post types.
According to the developer notes:
"WordPress has supported custom page templates for over 12 years, allowing developers to create various layouts for specific pages. While this feature is very helpful, it has always been limited to the 'page' post type and not was not available to other post types. With WordPress 4.7, it will be."
In my opinion, WordPress post templates are pretty cool as it will allow users to create custom post templates for their products or sales landing pages to target the specific audience. It is still not clear how it will be exploited by non-technical bloggers.
9. Editor Improvements
Don't be surprised if your editor doesn't look same. WordPress 4.7 has slightly tweaked the editor layout as well. It is a part of WordPress commitment to improve the editing experience by making the editor more easier and intuitive.
If you've already updated your WordPress site to 4.7, you will see keyboard shortcuts in tooltips and dropdown menus on hovering over the buttons or clicking on the dropdown. The paragraph and heading selector menu will now appear in the top bar. The underline button has been removed, and the strikethrough and horizontal line buttons are moved to the bottom bar.
10. Language Control
WordPress 4.7 also integrated preferred language support for each user. Users can now choose their preferred language in their profile area. But you still need to install the other language packages before user can switch them.
More Changes & Fixes
WordPress 4.7 also brings lots of exciting changes & bug fixes for developers as well. Following are some of them:
Smoother Menu Building
Now you can add new pages while building menus instead of leaving the customizer live preview and abandoning your changes. Once you've published your customizations, you'll have new pages ready for you to fill with content.
Locale Switching
If the content of your blog is displayed in a different locale than the one set in administrator area, then WordPress will show the toolbar in the language of the content page.
Accessible Alt Text for Images
WordPress automatically used file names as title and alternate text for images added in WordPress. Starting from 4.7, WordPress will now leave the alt text field blank if a user does not make any changes to the title or alt text fields when uploading an image. Do we really need this? I don't think so.
Conclusion
I hope that this article will give you an in-depth understanding about what's new in WordPress 4.7 and how it will improve your WordPress blogging experience. I'm much impressed & excited about REST API end-points, Custom CSS & edit shortcuts. What are you excited about in WordPress 4.7?
If you've any question or suggest regarding WordPress 4.7, please post it in comments section or reach to us via contact us page.
If you want to receive weekly WordPress tips, tutorials, plus news & discount coupons, please subscribe to our newsletter. You may also want to join us at Twitter & Facebook.