What is WordPress?
WordPress is a web publishing system. It is free and open source. In other words you can say that it is a free tool which helps you to build your websites. I is an online website creation tool written in PHP. But in non-geek language, it's almost the simplest and most powerful website and blogging content management system (or CMS) which is in existence today.
Who uses WordPress?
Well WordPress is such a system which is used by single persons for blogging, for non-profit organizations, for small business, schools, government and yeah more than 500 fortune companies. It means WordPress benefits Everyone. WordPress helps you, It doesn't matter who you are and what you try to achieve.
How can WordPress help you?
It helps you in community surroundings. Somewhat between 17 to 20 % of all the websites on internet are powered by this amazing WordPress. Which means 1 in 5 websites of the world is powered by WordPress.
Attitude attached to WordPress
Lets keep the things simple and know about WordPress.
Dashboard
It is the back-end, and only visible by the site owner, admin, author or other authorized persons. Your audience and the general public cannot view/see it as it is for creating and editing the posts. This is something where you administer your website. It is like the printing press, public cannot see the way we create news but public can only see the news the we construct it.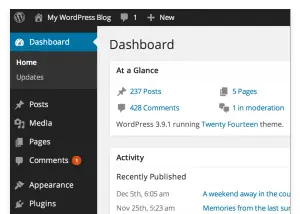 Posts
If we click on the Posts at the top-left side, we will see the list of the posts which have been published or saved as draft. Just like the picture given below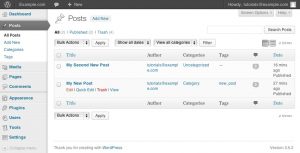 By clicking on one of those published/saved posts, you can see that post in an editor.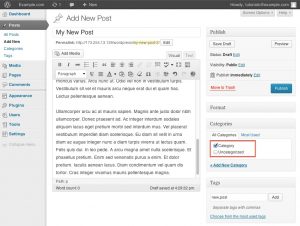 After opening the existing post, you can
You can use bullets of your choice
Make your letters bold
Italic

Underline,

Strikethrough

Colorful

You can use Blockquote like this

You can make your text's alignment left, center and right
Also you can remove the link
You can insert Read More tags at the end, start, or in between your post.
TablePress can be used in your post
You can clear your formatting
You can use special characteristic like ½, õ, ©, Ē, ∑ etc.
Within the margins, you can increase or decrease the indentation of a paragraph or group of paragraphs.
Undo or Redo your actions.
Also you can use short keys (given in the top toolbar)
And you can make headings of different fonts.
Add New
By clicking on the Add New, you can create a new post. Creating a new post looks similar to the edit screen except a new post is totally blank. Features are placed in the exact same position so it's quite feasible to create your post.
Media
Media option gives you two futher choices
1. Library
Choose library if you want to add any picture video or other media from the saved files in your library.
2. Add New
Choose add new if you want to import your file from your computer system.
Comments
Comments make your website's visitors able to have a discussion with you and or even with each other. You can approve or delete comments which are pending approvalWhen you enables Comments on posts, WordPress adds a few text boxes after your blog where users can submit their comments. Once you approve a comment, it appears underneath your content. Whether you desire to customize how you receive your comments or tweak how your site shows comments, WordPress gives you a thorough set of options to build a community from the visitors to your site.
Contact
Contact form plugin that has all the advanced operations one can ask for. Pros. Gravity Forms is a strong contact form plugin for WordPress. With the support of additional add-ons, Gravity Forms can be utilized to make surveys, quiz, user submitted content, and even web directory. Contact form plugin for WordPress website is a good solution to receive messages from audience/consumers right to your email address or addresses. Download, activate and paste [bestwebsoft_contact_form] shortcode on any page, post or widget to show the form. Customize the form font and contents feasibly with the pre-build options. Permit your customers to reach you in no time.
Here is the brief overview of Contact From WordPress plugin:
TablePress
TablePress is a free WordPress plugin that allows you to make, organize and control tables on your site. No HTML knowledge is necessary, as a comfortable interface enables you to easily edit table data. An extra JavaScript library can be utilized to add features like sorting, pagination, filtering, and many more for site visitors.
Profile
Profile contains the personal interface of the site owner, admin, author or any other authorized user. Here you can change your name, the public name, or even nick name. You can give your contact information, it will be shown under your name on the website, visible to the customers and audience. Moreover you can add you biography, profile picture, can manage your password, or even you can give your Facebook and Twitter link to increase your followers.
Tools
Tools menu contains the least-used section of WordPress. By default this contains a small bookmarklet to save web snippets, along with an export/import feature. So this menu is needed seldomly, unless you're backing up or restoring a copy of your blog/posts.
Some plugins will add their own menus into the Tools locations because it's so vacant. But it's more common for plugin menus to be visible in the Settings link. For the most part you will not require the tools menu at all, but it's better to know what's beneath the hood just in case.
Collapse Menu
It allows user the identical view as of Profile, by clicking it once. If you again click on it it will wrap up that profile.
Sign up for our weekly newsletter by filling the form below to receive more beginner guides about WordPress. You may also want to follow us on Twitter, Google+, Linkedin and Facebook.
Don't miss: Black Friday & Cyber Monday Hosting Deals: Up to 88% Discount (2016)