Startup is all about your dreams and in either way you will be craving to make your dreams come true. But definitely to make your dream alive, you have to plan it properly.You may need some loan and have some specific skills and proficiency to make your startup work.For this purpose crowdfunding is a best way to support your startup.
What is Crowdfunding?
Crowdfunding is a way to raise funds that you do not repay but instead offer rewards to incentive people to donate and to thank them for their contributions. Personal crowdfunding is different from business crowdfunding as you don't have to offer shares in your business as a repayment.
Process of Crowdfunding
To get a funding for your startup , you have to follow these simple steps:
You have to Sign Up the respective Crowdfunding platform and Login.
After that you have to create a free campaign online that explains the reason you are seeking funding, your goal amount and any rewards you may be offering. Keep in your mind, your campaign should be convincing enough to get audience attention.
You campaign will stay online depending on the policies of that crowdfunding platform.
After your campaign achieves the goal, you have to pay a specific % of your fund to the host platform.
For deposit and funds transaction majority platform use PayPal while some use direct deposit and transfer.
1. Kickstarter
Kickstarter is the most famous crowdfunding site on the Internet. Kickstarter has raised a total of $220 million from 61,000 launched projects up-till now. Kickstarter accepts all major kinds of creative projects under the category of Art, Comics, Crafts, Dance, Design, Fashion, Film & Video, Food, Games, Journalism, Music, Photography, Publishing, Technology, and Theater.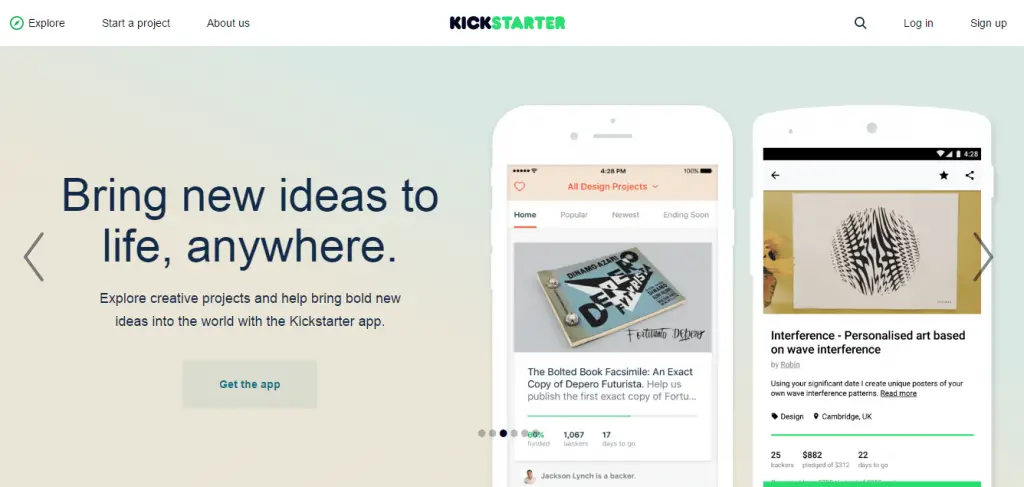 To get a funding from Kickstarter, you have to follow the Kickstarter Rules.
Fee
Kickstarter charges 5% fee for every successful campaign.Personal fundraising is not allowed, Creative only.
Indiegogo is also a very popular crowdfunding platform started in 2008. Indiegogo raised 1 billion dollars up-till now. Indiegogo is supporting campaigns in category of Tech, Film, Small Business, Community, Music, Education, Design, Environment, Gaming, and Video/Web. Indiegogo is adaptable as compared to Kickstarter and an easy one.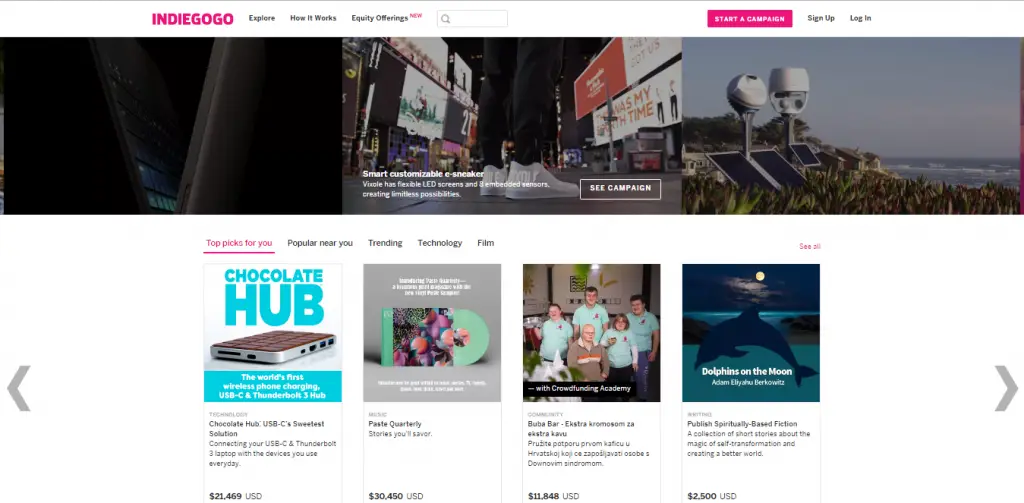 Fee
Indiegogo will deduct 4% from every raised fund, and 3% will be charged for credit card transactions.And if you are starting a campaign as a non-U.S citizen, you have to pay $25 extra for fee.
3. Appbackr
First crowdfunding website which is only supporting the mobile app development campaigns. So, the name is Appbackr. It offers a chance to let the backers fund the apps that are currently on sale or in the stage of development, but backers could earn back their money by backing the app.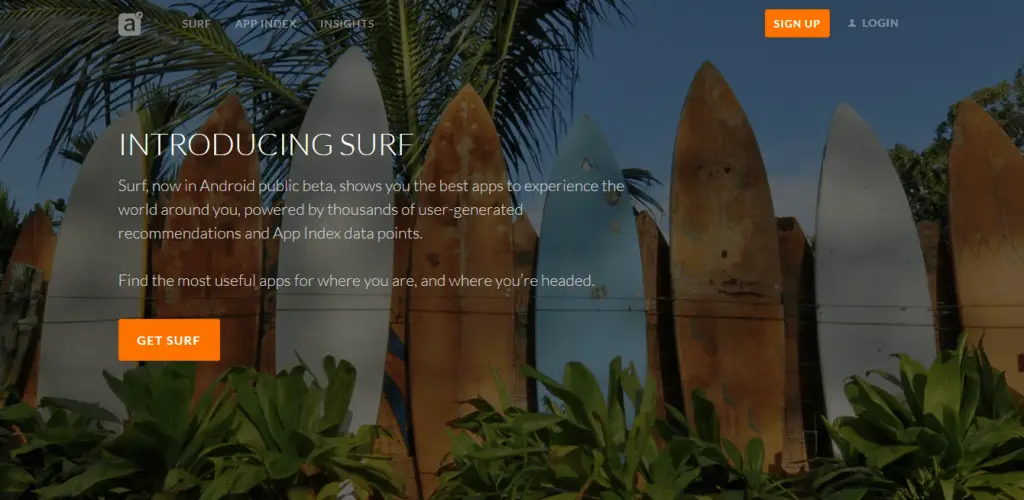 Fee
To back an app development you have to buy the  app with a lower price, and the money you pay will be deposited to fund the app or its development. Once the app makes its earnings in the app store, Appbackr will pay the backers back with the sales price of the app. So if you bought the app during its developmental stages at $2 ten times but the app is eventually sold for $4 at the app store, you would have forked out $10 but gotten back $40! Whole trade process is handled by Appbackr.
Crowdrise specialty is it promotes charitable and personal causes. You can raise fund for friends who need help, animal welfare,any type of charity, arts, events, diseases, education, and even religion. Currently the project which has raised $238,651 is a disaster relief campaign for Aleppo. Crowdrise gives points to the fundraisers and on the basis of those points and in return it helps organization to improve their reputation in welfare campaigns.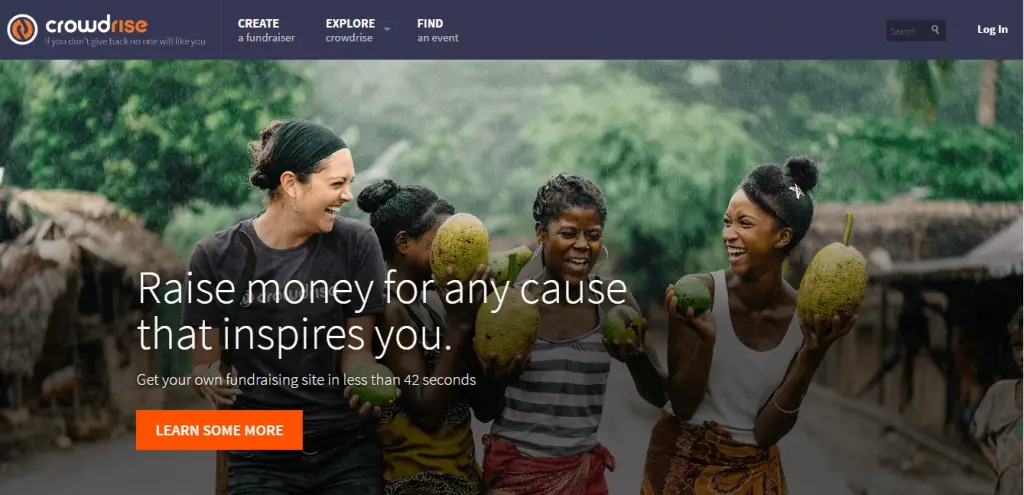 Fee
This is pretty complicated. Generally, there's a flat 4.95% charge for the profit fundraising event, but there's a blurry transaction fee involved in extra charges. For non-profit organizations, you could choose from a range of account types from free, to one with a $199 monthly fee.
5. DonorChoose
DonorsChoose is a United States–based nonprofit organization founded in 2000 by a high school teacher. It empowers that allows individuals to donate directly to public school classroom projects. DonorsChoose empowers public school teachers from across the country to request much-needed materials and experiences for their students. Right now there are thousands of classroom requests that you can help bring to life with a gift of any amount.

Fee
Only 4.2 % of the fund is deducted as a fee and 0.9% is spent on general and administrative purposes. The other 94% is fully obtained by the teacher who has launched the campaign for his/her classroom.
6. Experiment
Experiment is a funding platform for scientific researchers. It has different categories like medicine, mathematics, engineering, arts, ecology and many more. Different international universities apply for grant on Experiment.com and currently raising funds for their research projects. Up-till now 672 projects have been funded now and 20 papers have been published from projects.

Fee
Backers directly fund the project scientists, so there is no overhead involved (compared 50-60% when receiving a grant at a university).
Experiment is an all-or-nothing funding platform. This means the project must reach the funding target, or no one's pledges are charged.
7. GoFundMe
If you're looking to just raise money online, for a cause, or personal reasons, GoFundMe is the best fundraising option for you. In here, you get supporters to donate for your personal campaign, and it could be everything like your personal education expenses or your pet's medication fee. It's truly about donation. GoFundMe is all about sharing and caring policy.It has a dashboard with social media integration, and even multiple donation pages to spread the message to every possible corner of the Internet for greater success.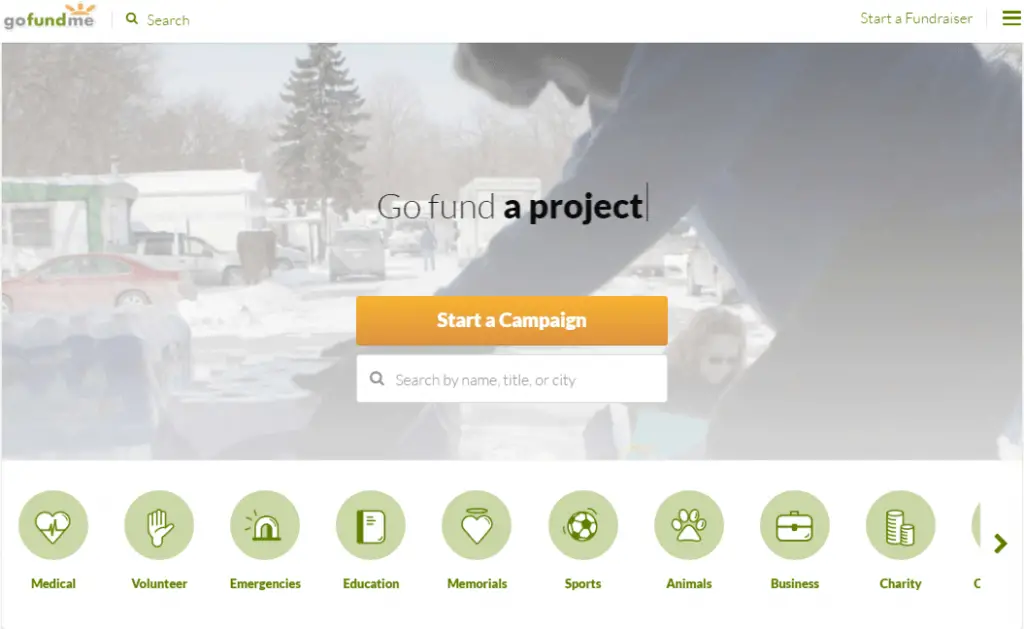 Fee
GoFundMe take 5% from each donation (hence the total donation) you receive. Depending on your preference, you could either use WePay or PayPal to process your payment; they both charge fees ranging from 2.9+% to 3.5%.
8. RocketHub
RocketHub is a simple platform for entrepreneurs to fuel up their projects. User just have to follow a 3-simple step process: register your project, track the progress and status of project. Distinguishing feature of RocketHub is its Launchpad which provides an opportunity for entrepreneurs to work with op-notch brands, companies and marketers to help them raise public interest and seek more potential opportunities for their projects. They also have access to media campaigns and exhibition arranged by the platform, this may be a great plan for creatives such as artists, photographers and musicians who seek for rare opportunities and publicity.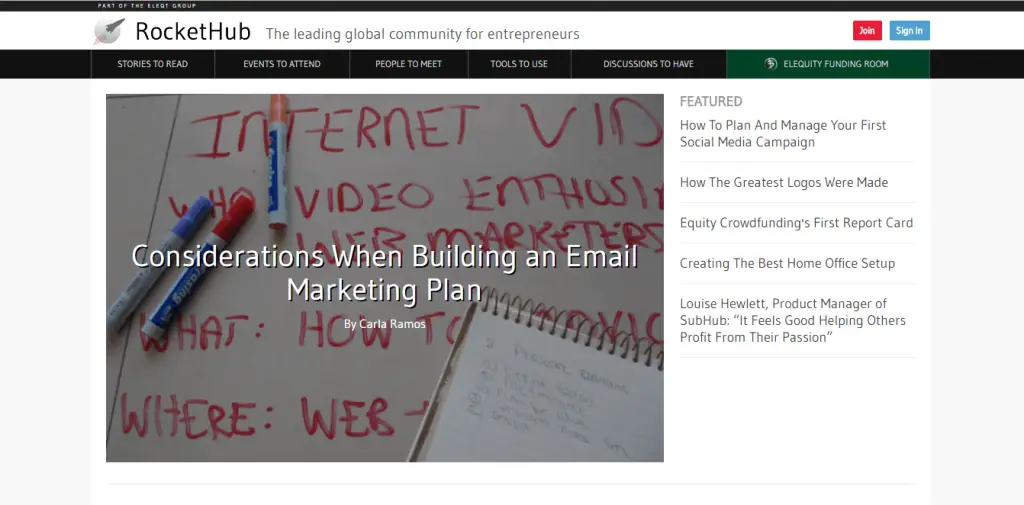 Fee
Rocket Hub charges for a successful project is 4% and 8% for project ended without reaching the financial goal. Moreover, 4% will be charged extra for credit card processing.
9. Patreon
Patreon is a different sort of crowdfunding platform for an internet-based content creators which allows them to build their own subscription content service.So, Patreon is simply for creators. It is the best way for creators to earn ongoing revenue directly from their fans. There are different categories: Videos, Films, Comics,Photography, Paintings, Crafts, Dance, Science and Education. Patreon is a way to get paid for creating the things you're already creating (webcomics, videos, songs, whatevs). Fans pay a few bucks per month OR per post you release, and then you get paid every month, or every time you release something new. Patreon was started in 2013 and it has paid $100 million to creators. You just have to create your own page at Patreon but be aware,content should be authentic and their should be no copyright violation.

10. Generosity
Generosity is a fundraising community built for personal and social causes powered by Indiegogo. Generosity is not just a fundraising platform, its a spirit which enables you to change lives and launch entire humanitarian movements—across town or across the world. The Generosity community is free of the fees common to most fundraising platforms, which means you keep more money for your causes.
At Generosity, fundraising process is very quick. It takes only minutes to launch a campaign and share your story with friends, family—and we disburse your funds quickly and securely.Generosity has raised $1,418,334 up-till now from 51,466 donors worldwide for the social and personal causes like medical, education,sports, faith, volunteer projects, memorials, celebrations and emergencies.

11. Sellaband
Sellaband is a purely music crowdfunded platform. It has coordinated recording sessions of more than 80 music artists and $4,000,000 have been funded to music bands via the site. So, if you are a musician and want to fund your creation,you have 100% freedom to apply for funding. Sellaband makes you free to make your choices about any deal with any label, management company, or publisher without any limitations.
Fee
Sellaband charges 15% of the funded campaign in order to support its company operations.
It's All About Planning..!
When it are ready to put your dreams or your startup plans into motion, it's important to know which things to do in the what sequence. If crowdfunding is the best way to launch your project, choosing the right crowdfunding site is definitely an important step.
Keep in mind the fees you will be spending, and the rewards, perks and benefits for each crowdfunding site. Don't try to over fund your startup. Know your funding goals beforehand. And don't leave it all to the crowdfunding sites to do all the marketing for you.
At the end of the day, you are putting yourself out there, convincing people to part with their money to help fund your thoughts, concepts and ideas. Run a marketing campaign on social networks like Facebook, or at least try to challenge yourself into making a viral YouTube video. To sum it up, make your project and its marketing campaign interesting, attractive, realistic and most importantly, unique. All the best then, dreamers!
If you want to receive weekly blogging tips, tutorials, discount coupons, apps, gadgets  & startup news please subscribe to our newsletter. You can also follow us on Twitter,  Google+,  Linkedin and Facebook.