Have you ever felt like a famous rock-star on social media especially on Twitter? Are you running a business and want to verify your brand Twitter account to protect your brand? Or are you a crazy individual who just wants to see a blue checkmark badge next to your name on Twitter?
If yes, this guide is for you!
As of July 2016, you don't need to be handpicked by Twitter for verified account badge.  You can now apply to get verified on Twitter and get a blue checkmark next to your name. Although, the verification request process doesn't guarantee that you will get verified badge in first attempt. But if you're an active Twitter user with complete profile (added bio, date of birth, location etc.), tweets regularly & fills the request form correctly, there are high chances of getting verified Twitter account.
It's worth more than you think
Having a verified Twitter is not merely a blue checkmark next to your or your brand name but it has a lot more worth.  Following is why verified Twitter account important for any brand or individual:
Maximize your brand public presence — The most common reasons behind Twitter account verification – whether you submit the request yourself by filling the request form or get handpicked by Twitter's verification team – include being a highly recognizable brand or public figure (actors, musicians, athletes, artists, public or government officials or agencies, etc.). A verified Twitter account can help your fans and followers to recognize you on Twitter search tool.
Improved brand credibility —  Being a public figure or brand, gaining a social media exposure is very important to speed up leads generation process & to enhance your business earnings. Verifying your Twitter account can enhance your brand credibility by making your personal brand more attractive for endorsements that ultimately leads to more traffic to your website and more profit.
Stand out from the crowd of parody & fake accounts — If you are a famous public figure or brand, it is highly likely that there are other parody and fake accounts pretended to be associated with you or your brand. It's because Twitter doesn't stop users to create a duplicate or parody account. By verifying your Twitter account, you can distinguish yourself or your brand from such fake and parody accounts. It increases your brand credibility as well since you're not responsible for the actions of other people that are not associated with you.
Don't loose followers interested in your brand —  People who are interested in your brand often search your account via Twitter Search Tool. They are the potential leads if they're able to reach out to you. Having a verified Twitter account will help them to find your brand account from a cloud of fake & parody accounts that will increase your followers base as well.
But it's not what you think
There are few things which may not help you in verification process or may not change after the verification.
The numbers of followers you currently have (doesn't matter if followers are 10 thousands or 1 million)
The numbers of tweets you've posted so far (again irrelevant)
The quality of your posted tweets
It solely depends on Twitter to verify your account (whether you requested them to verify or they handpicked you)
It doesn't prevent people from creating fake & parody accounts in future
It doesn't delete all current duplicate & parody accounts
It's no affect on your tweets reach
And finally … it doesn't guarantee increased followers (still it helps interested users to identify your brand)
Who can verify Twitter account?
Although, everyone can request to get verified on Twitter but it doesn't mean that they will get through it ultimately. Twitter has listed some important factors that might be helpful to them to decide whether to verify the account or not.  Here is what Twitter says:
"An account may be verified if it is determined to be an account of public interest."
Probably, the biggest factor in verification process is the "account of public interest". To explain more, Twitter's mentioned "Public Interest" may include but not limited to public figures and brands or organizations in the field of:
Music
TV
Film
Fashion
Government
Politics
Religion
Journalism
Media
Sports
Business
and other key interest areas
As long as you fulfill the minimum requirements with your profile (having things like original profile photo, complete bio, and verified email etc.), the verification process seems to have "public interest" somehow. Don't worry, if you get rejected first time. You can still re-apply after a wait period of 30 days.
Requirements to submit verification request
To get verified your Twitter account, you must meet a checklist of minimum requirements to be eligible to submit the request. You must have:
Verified phone number
Confirmed email address
Bio
Profile photo
Header photo
Birthday
Website
Tweets mark as public in privacy settings
Important: If you want to verify your individual account as opposed to your business account, Twitter requires a copy of your official government-issued photo identification (e.g. passport or driver's license) in order to confirm your request.
Following is a step-by-step guideline how you can meet these requirements quickly:
Verify your phone number
Normally, Twitter asks & verifies the phone number at the time of signup. But in case you missed to verify it, you can do it here now. First, select your country and enter your phone number, then clicks on "Continue" button. Twitter will send a 6-digit code at your phone number (only if you enter the phone number correctly in the first place).
Twitter will ask you to enter the code being sent at your phone number. If you enter correctly, Twitter will verify your phone number and will confirm you via an email. This is what it looks like if your phone number is verified:

Confirm your email address
Again, email is supposed to be confirmed at the time of signup at Twitter. But you can do it at later stage as well. You can add the email address here. To confirm the email, click on the link that Twitter sends to your email address. This is what it looks like if your email address is confirmed: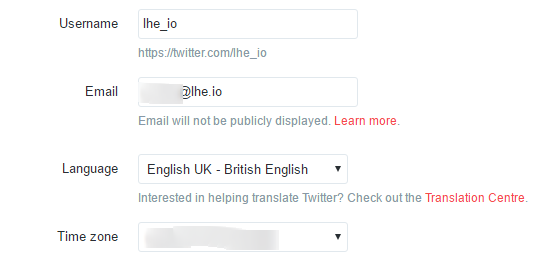 Important: If the account is a company or organization account, the email address associated with the account should be a company or organization email address.
Update your bio, profile picture, cover photo, birthday, and website
To update or add bio, profile picture, and other information, go to your profile on Twitter (in our case, https://twitter.com/lhe_io). If you're logged in, you should see an "Edit Profile" button to the right of your Twitter stats bar.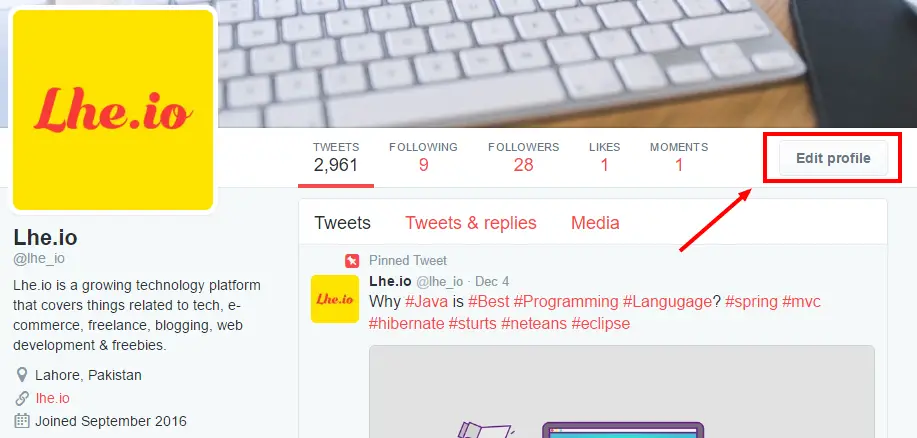 Click on "Edit profile" button and it will make your personal information editable. You can change your profile and header photos, update bio, date of birth, website, location, theme color etc.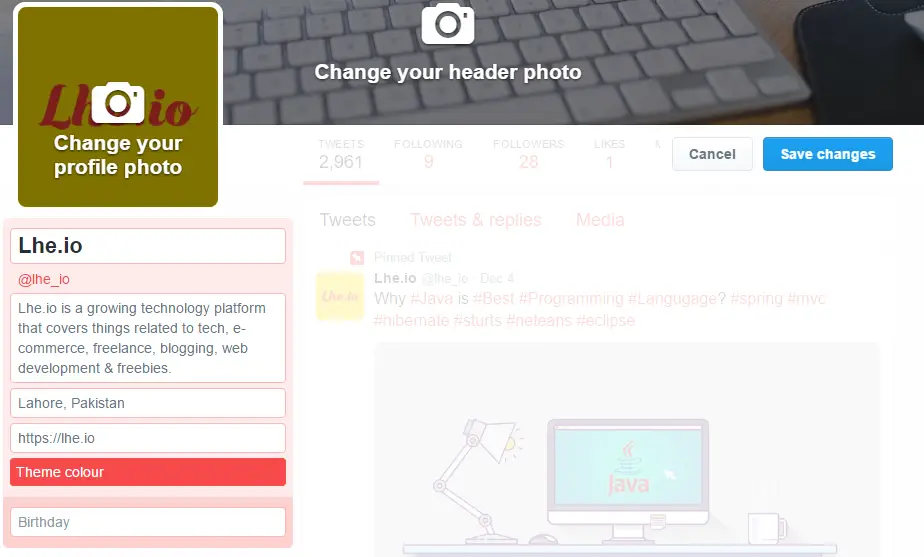 Once you update the profile, don't forget to click on "Save changes" button to save your information on Twitter server. You can also control the privacy of your birthday by clicking the lock icon (will be visible when you enter birthday) to choose who can see your birthday on your profile.
Make tweets public
You can change the tweets privacy here. Uncheck the "Protect my Tweets" checkbox and then save the changes.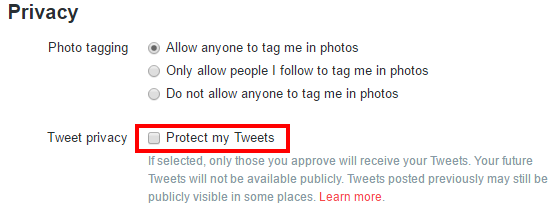 In additional to above information, Twitter recommends that your profile name is the real name of the person or the brand/organization. Also your profile photo and cover photo accurately represent what you're about and what you offer. The bio should mention an area of expertise of an individual or company mission.
Submit account verification request
The last step is to submit the account verification request to Twitter. You can submit a request to verify an account by filling out form, and Twitter will respond to your request via email.
Important: In order to access the form, you must be logged in to the Twitter account you would like verified. If you are not already logged in, you will be redirected to the Twitter login page.
Here is how you can complete the verification form: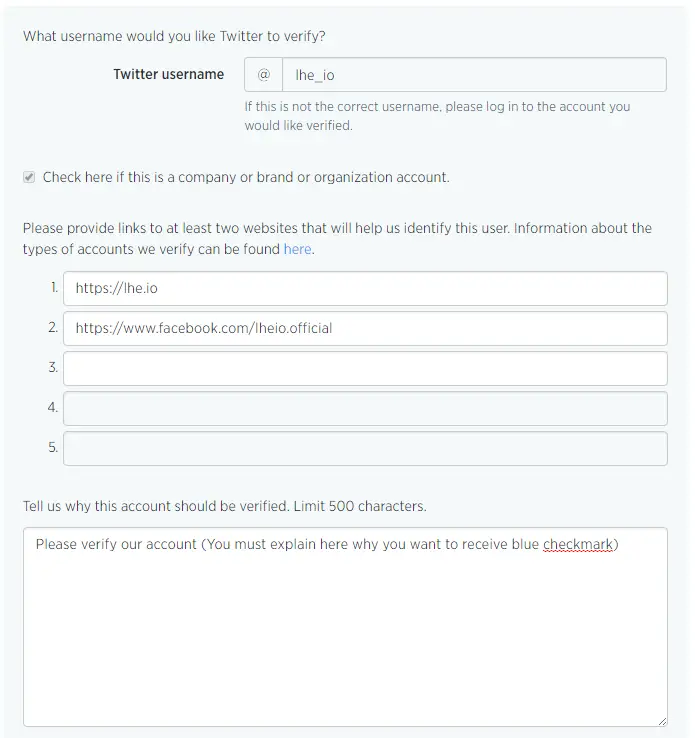 You are required to enter your Twitter account username, at least 2 websites links that help Twitter to identify you. If you are verifying a brand, use your website URL as first link and for second, use your company social media account link like Facebook. For individual, list your other social media accounts links.
What's next?
Wait for Twitter to respond to your account verification request. If you don't get a reply within one week, you can contact Twitter by email or by tweeting @twitter. Remember, Twitter deals with high volume of verification requests per day, and they give preference to "accounts of public interest".
If your application is denied…
If your request is rejected, don't panic! You can still submit another request for the same account 30 days after receiving the rejection email from Twitter. But I'd advise to go through verification requirements once again and try to fix the potential issues that led to application rejection. If you received a response from Twitter requesting edits to your account and/or additional information, you can submit another request any time after completing the steps outlined in their response.
If your application is approved…
Congratulations! Twitter will notify you via direct message if they decided to approve your request. Click the link in the message to complete the last step of verification process. It has following three steps:
Learn how to tweet effectively — Twitter will show you two tweets and will ask you to choose the best one. It's kind of small quiz, but it doesn't have any negative impact if you fail to answer correctly. The main reason behind it is to teach you how to tweet effectively to increase your followers.
Connect with other interesting Twitter users — Twitter will show you a list of other verified accounts with an option to follow them. It is completely optional and it helps in making your Twitter account looks more legitimate.
Protect your account — Twitter will ask you to add another phone number as backup through which Twitter can contact you if they find any problem with your account.
Once you go through above three steps, your Twitter account will be verified!
Pro tip: Do not change your account information after you have received a verification badge. It is important to keep your account information the same. Changing information, such as your phone number, can alert Twitter to review your profile once again that can potentially remove the badge, forcing you to contact them again.
Summary
This finishes our guide to get a verified Twitter account. I hope that this article helps you to complete the Twitter account verification process successfully. If you've any question or suggest regarding the verification process, please post it in comments section or reach to us via contact us page.
If you want to receive weekly social media tips, tutorials, plus news, please subscribe to our newsletter. You may also want to join us at Twitter & Facebook.