Patari's Announcement
Patari is an online music streaming platform which was founded in 2015. It has recently declared that, from saramayacar, it will be raising seed stage funds of US$ 200,000.
This saramayacar funding's' particulars were revealed in Lahore at a music/singing event. The whole team of Patari was present at that event. Also many other great investors and entrepreneurs attended the event in which Rabeel Warraich, the founder of Sarmayacar, Chairman PITB and Nabeel A. Qadeer, Dr. Umar Saif and Director Entrepreneurship and Enterprise Development were also present.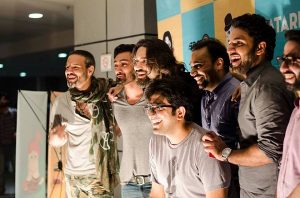 Comments about Patari's Announcement
"Our triumph at Patari had been based on revolutionizing quality products and funding in music. Our partnership with Sarmaycar will enable us to scale up and truly unleash the massive potential inherent in Pakistani music." Said by CEO of Patari, Khalid Bajwa, on the event.
 "What started as an idea a few years ago has now spread like a wildfire across the country. Witnessing the remarkable growth of this startup culture and majorly being a part of it feels amazing. Investors believing in the passion and entrepreneurial skills of this young lot, confirms that this culture is here to stay for a long period of time. I wish Patari and emerging startups a successful and prosperous future." Startup was appreciated with these words by Chairman PITB, Dr. Umar Saif.
Don't Miss: Arrival Of Pokemon Go On Apple Watch
Patari's products and services
In April 2015, with the collaboration of guerilla marketing campaign Patari launched its beta service that with in no time went viral. This particular platform went live in last year's September, by progressively developing out Android in addition to its website and mobile apps for iOS.
Patari's Achivements over these products and services
Patari won the mBillionth award in India
Patari won the Pakistan's Startup Cup.
The service also won over the artist community after announcing Rs. 1.25 million in royalty payouts.
 "Before the existence of Patari, the native music industry's two axioms were that no one adheres to copyrights, and no one pays royalties. We become able to display that both can be done, and as such our story is a story of triumph not just for the music industry, but also a specimen of how Pakistanis are producing world-class tech products." Said by Patari's Director Content, Ahmer Naqvi.
Do you Know About Sarmayacar?
Sarmayacar is a sponsor organization that mainly concentrates on angel and seed stage funding. Founder of Sarmayacar, Rabeel Waraich, said about Patari's startup that
"We chose Patari because it is a startup driven by a dynamic team that will help revitalize the waning music industry of Pakistan. With Patari's platform, we hope to propel the upcoming music scene to new heights and bring back the golden era of Pakistani music."
Also Read: Mood Assessing Smart Glasses By Dior's Frame-Maker
In the start of this year, Patari became the very first digital associates from Pakistan in tech giant Facebook's F8 program, that provides bigger compatibility for the products of Patari within the Facebook platform. Patari has also protected numerous high-profile musical proclamations, that comprises of the exclusive digital rights to proclamations by renowned artists like Uzair Jaswal, Noori, Mooroo and the music/tracks for movies such as Bin Roye and Ho Mann Jahan. It has also launched an EP known as 'Patari Aslis', which includes real tracks by indie artists sponsored by Patari. One of the tracks on the EP went on to be nominated for Lux Stylole Awards that is Mehdi Maloof's Do Hi Rastay Hain.
To Read More: 5G: Faster Than Fastest Advance Technology Is On Its Way To Reach You