World's Programmers
This very world is gaining millions of programmers every year. Some are skillful while some just got the degree. By thinking broadly how can we say that which country is producing more skillful programmers? Many would think that it's the United States. After all, the United States is the limelight of programming luminaries such as Bill Gates, Dennis Ritchie, Donald Knuth and Ken Thompson. But then again, India is known as the fastest growing country of programmers in the world, while the hackers from Russia are apparently pretty effective. Is there any way to get to know about which country is best?
Which Countries Have The Best Programmers?
If you ever wondered about which country produces the best programmers, wonder no more. Because it has been decided to examine the world's data to answer this question: Which countries do the best at programming challenges on HackerRank? At HackerRank, tens of thousands of new coding challenges are posted regularly for developers to enhance their coding skills. Hundreds of thousands of programmers an developers from the entire world come here to participate in challenges in so many languages and knowledge domains, from Python to algorithms to security to distributed systems. Our world and its communities are growing everyday, with over 1.5 million developers ranked. Developers are scored and ranked on the basis of combination of their speed and accuracy.
HackerRank
This week HackerRank published a study showing which countries have the best developers. HackerRank is a free coding practice website that allows developers to hone their coding skills by solving challenges. Based on the speed and accuracy with which people finish the challenges, HackerRank has ranked 1.5 million developers. This study ranked which countries were best overall, which types of challenges were most popular, which countries dominated in each type of challenge, and which languages each country preferred. While the United States and India have the most participants on the site, both countries put up disappointing numbers overall. The U.S. came in at 28th, while India was a few behind at 31st. Following are the some of the images from HackerRank:
Most Popular Challenges?
The analysis began by seeking at which test kinds are most popular among developers. HackerRank developers can select to take part in 15 different domains, but some are more famous than others.  The following table depicts the proportion of accomplishment of tests that come from each domain.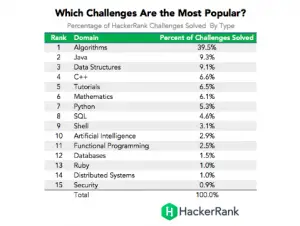 Best Developers?
The data was restricted the 50 countries with the most developers on HackerRank. In the picture below, you can see what was found.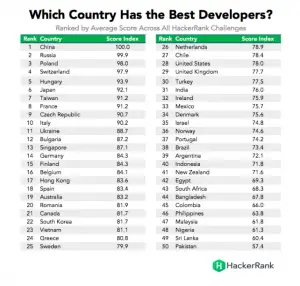 According to this picture Since China scored the highest, Chinese developers stood at the top of the list with a score of 100. But China only won by a little margin. Russia scored 99.9 out of 100, while Poland and Switzerland scores near 98. And the Pakistan scores only 57.4 out of 100 on the index.
Best Developers By Domain?
Which country makes the best developers in specific skill areas? Let's have a look at the top scorer countries in each of the following domain.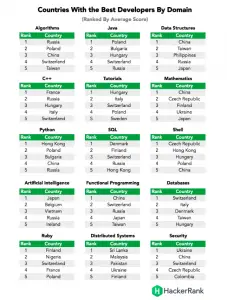 Participation?
Heading ahead, it was also compared that how the developers in each of the selected countries split up their time in different types of challenges and then compared these domain preferences to those of the average HackerRank user. This enabled to figure out which countries are less likely than the rest to take a test in a particular domain—and which countries are more likely than the rest.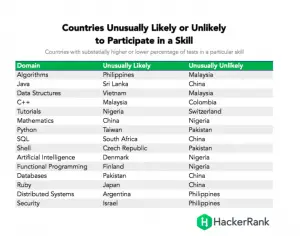 Proportion Of Test?
People also wanted to come to know about the tests like whether countries have some particular preferences when it comes to programming languages. For example: Are Indians more interested in C++? Do Mexicans code in Ruby? The chart that is given below, breaks down the proportion of tests taken in each language by country.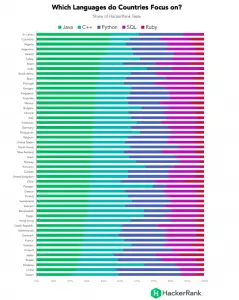 Who Never Gives Up?
When a developer in HackerRank gives up on any type of challenge before giving any progressive move, then they score zero. Switzerland has the minimum percentage of nil scoring users, which make Swiss coders highly retentive Programmers in the World.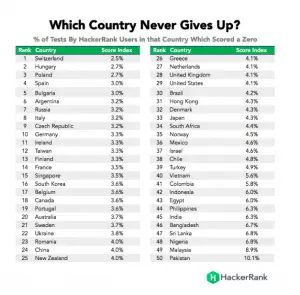 So Who's In The Top 10, And Why?
Starting from no.10
10. Italy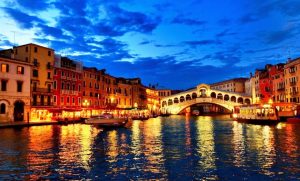 This country is particularly amazing when we talk about the HackerRank's database and its tutorial challenges, ranking second in both those arenas. It seems like HackerRank is not the only one that considers highly of Italy. Apple have declared a 600 programmers' new school at The University of Napoli Federico II on the coast of Italy.
9. Czech Republic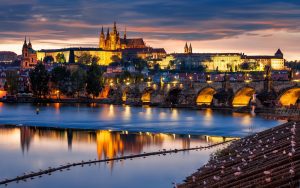 The Czech Republic is prominent in shell scripting challenges. They also ranked second in mathematics challenges on HackerRank. These skills makes the country stand at the no. 9 on the list of best programmers.
8. France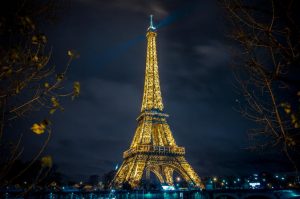 Following the HackerRank study, French programmers dominate C++ challenges. One reason: France started offering programming classes in June 2014, in elementary schools.
7. Taiwan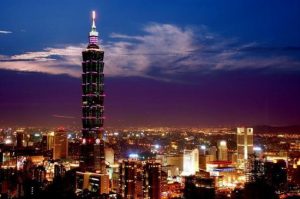 Taiwan stands at no. 7, scoring high in database, operational programming, algorithm and data structure challenges. The survey found that the Python is the dominant language.
6. Japan
Japan is the best country in the world at HackerRank's artificial intelligence challenges. This sits as no surprise as Japan is making great strides in AI — early this summer, the University of Tokyo was reportedly able to save a woman's life using AI to diagnose her cancer, for instance.
5. Hungary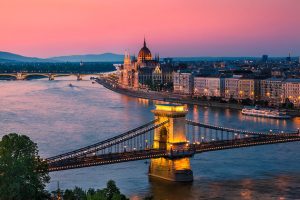 Hungary sits in at an amazing no. 5  in the rankings' list, and tops the world in performance on tutorial challenges. Hungary was one of the first European countries to adopt computer programming classes into their education system, in both primary and secondary schools.
4. Switzerland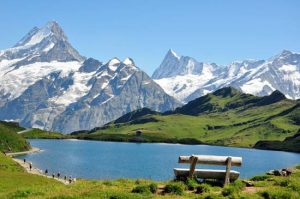 Of the 15 top types of challenges on HackerRank, Switzerland scores in the top five in nine of them, making it one of the most dominant countries across the board. Switzerland was also the birthplace of Pascal, one of the first computer programming languages. In addition, in the Global Innovation Index's 2016 report, Switzerland was also ranked no. 1 .
3. Poland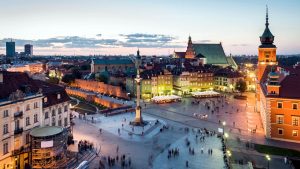 Poland wins in Java challenges on the site, specifically impressive as java is the preferred language among most of HackerRank's users. Like other numerous different countries on this list, Poland also offers coding classes in their schools.
2. Russia
With so much on the news about Russian hackers, this country's strong performance in HackerRank's challenges possibly doesn't come as an amazement. When when we talk about algorithms, Russia is the most dominant country, which is the most popular type of challenge on the site.
1. China
Just barely edging out Russia, China stood at no. 1 for the best performing computer programmers on HackerRank entrely. China is the best performing country in data structure, mathematics, and functional programming, when we talk about the specific types of challenges.
To Read More: Online System For New Electric Connections Will Be Launched By LESCO