After much speculations, Google has officially announced Pixel and Pixel XL — smartphones made by Google — at its hardware launch event in San Francisco.
The handsets, which are manufactured by HTC, have aluminum body with decorative glass panels on the back. These are the first Google's phones which are powered by Google Assistant and support Daydream virtual reality platform. Both smartphones are available in three colors: Very Silver, Quite BLack and Really Blue.
It is the first time Google took the full credit for their design and makes this explicit with its "Phone by Google" branding.
Both devices are mainly separated by the size and resolution of their screens — 5 inch 1080p display with a FULL HD AMOLED on the Pixel that is protected by Gorilla Glass 4 and 5.5 inch Quad HD panel on the XL.
Both Pixel models are powered by a Snapdragon 821 2.15GHz processor paired with 4GB RAM with memory options of 32GB and 128GB and run a specialized version of Google's Android software.
Pixel features a 12-megapixel rear camera with f/0.2 aperture above the fingerprint sensor; on the front is an 8-megapixel camera for selfies and video calls. The phone comes with a 2,770mAh battery, which can last up to 7 hours with just 15 minutes of charging, Google said.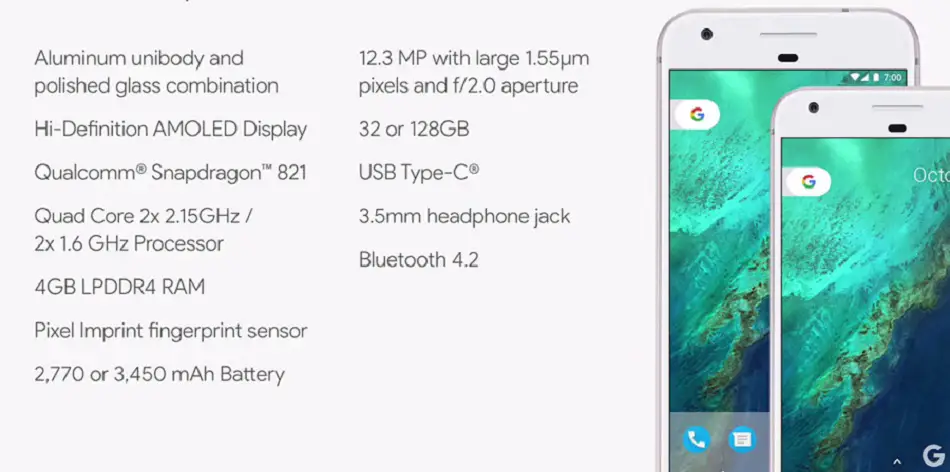 Google's Pixel devices come with Android 7.1 Nougat, the new update over current 7.0 release. This update also makes it possible to introduce Google Assistant — in a bid to rival Apple's Siri and Microsoft's Cortana.
[boombox_row][boombox_one_half]
[/boombox_one_half][boombox_one_half]
Google Assistant is an interesting addition to Pixel. Pixel is the first phone with new Google Assistant build-in. In the on-stage demo during event, Assistant was brought into action to perform a number of tasks like responding to natural language queries in textual or voice formats, playing music, fetching information from the web page and sending a text message.
"With your Assistant, you can have a natural conversation with Google to find answers or get things done on the go. Say "Ok Google" or touch and hold the Home button and your Assistant is ready to help. Ask it for a brief update on your day or to play a video on YouTube. Look up traffic on the way home from work or when the nearest pharmacy closes. You can even say "show me my camping photos with Andrew" and it'll instantly display the photos you're looking for.", Google said in a statement.
Similarly, it also integrates Google Now on Tap functionality, allowing the user to swipe up with information on the screen, such as shop name,and provides further information, such as reviews and the shop's address. Acting like a boot, Google Assistant will take your order for that same shop using only voice prompts.[/boombox_one_half][/boombox_row]
In terms of performance, Google Pixel beats the iPhone 7, with 89 device score, according to DxOMark's camera bench marking assessment.
Google claims the Pixel features the world best camera ever. The app is fast enough to process images twice as quickly as current technologies, offering exceptional results just like HDR mode.  The camera comes with built-in video stabilization for moving target clips.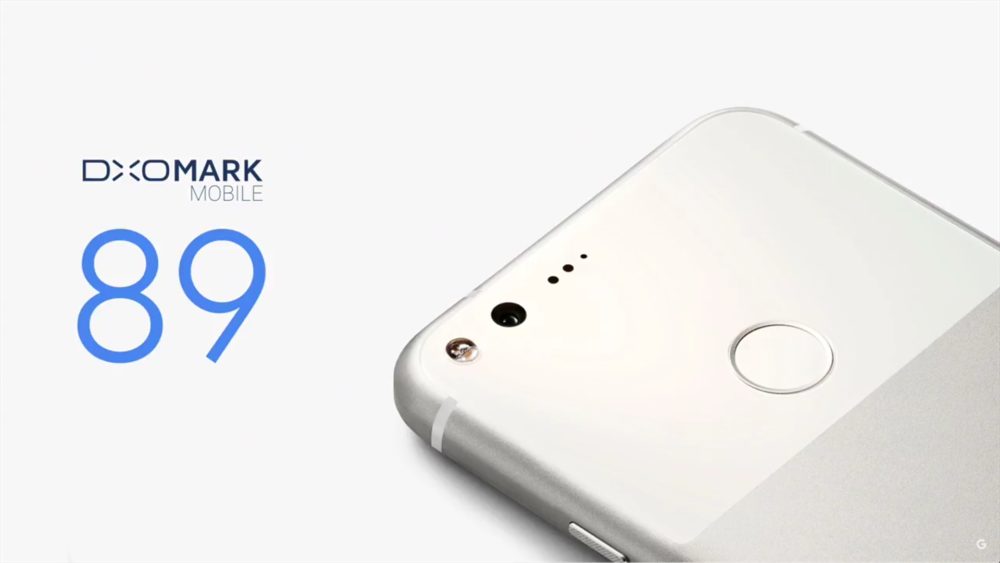 Google is also offering Pixel users free unlimited storage for all their photos and videos captured on the device at full resolution, including 4k video.
Pixel offers many more cool features like automatic updates which download in the background and install themselves, so you enjoy the latest features all the time. Google is offering 24/7 live customer support care via phone and chat, along with a screen sharing option. Customer will be able to choose from three colors: Very Silver, Quite Black and Really Blue.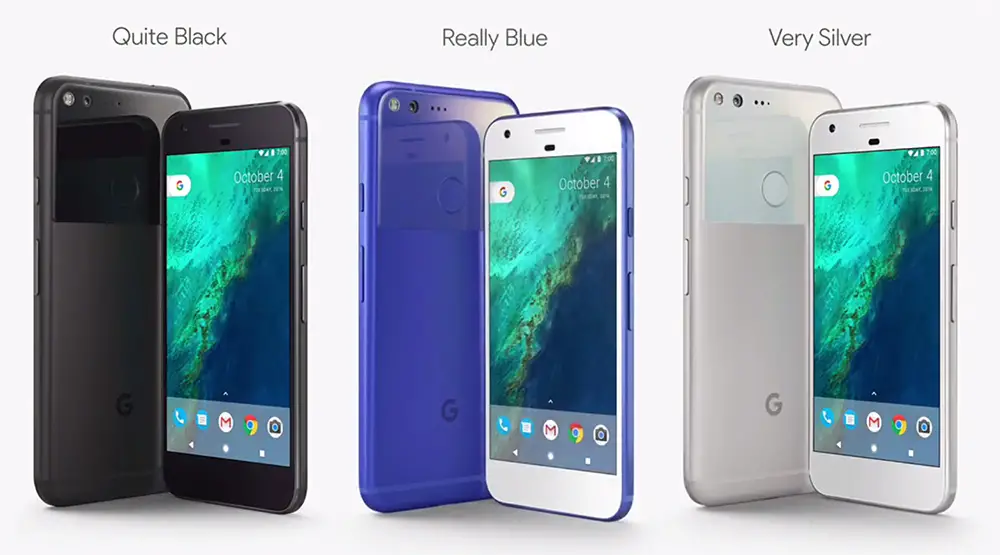 Pricing starts at $649 for 5-inch Pixel with 32GB of storage, available for preorder today. Pixel with 128GB has price tag of $749 whereas Pixel XL with 32GB and XL with 128GB will sell for $769 and $869 respectively.
It is available for pre-order in the United States, Australia, Canada, the United Kingdom, and Germany now; whereas customer in India can order it from October 13th. It is not yet clear when it will be available in Pakistan and at what price.
Join us at Facebook to stay updated about latest news from Google hardware event in San Francisco.
Read next: Google announces new smartphone Google Pixel Phone