Are you tired of frequent doctor's visit or don't have time to waste in queues before doctor's clinic? Or its not feasible for you to visit doctor at the moment due to your hectic routine or daily chores.But you can't afford to take risk about your health.
Now,  Babylon is here to help you out in this situation. Its your home doctor providing better health in your hands. Yes, you are thinking right. Its a mobile application providing medical services like checking symptoms, prescriptions and answering your health questions.
See also: Do you want a personal workout trainer?
If you are feeling anxiety,stress or depression  also offers a quick, easy, flexible and affordable way to talk to a therapist about a range of mental health conditions or either you are facing another medical issue like having a cyst or some sort of pain or injury. You can confidently use Babylon and contact a doctor from the comfort of your home via a video or phone consultation.App is available both for Android and iOS users free of cost.
Major features of Babylon
Babylon gives you the opportunity of consulting a doctor or therapist & get medical advice quickly via this doctor app. Health advice available from leading UK doctors, therapists and medical specialists on your mobile phone.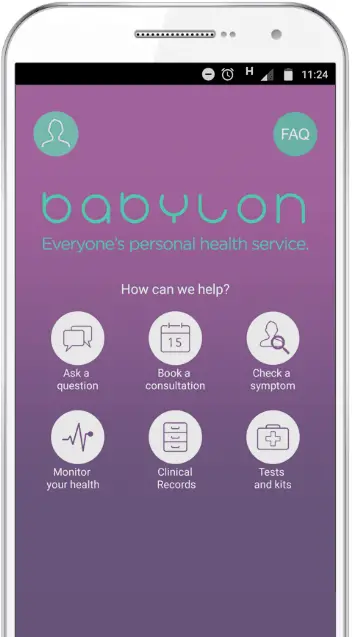 1. Video chat with doctor
Babylon offers specialists and therapists appointments and video or phone consultations with qualified doctors within minutes and check hundreds of million of symptoms in real time.
2.Monitoring body activities
App is fully registered with the Care Quality Commission (CQC) and have facility to monitor your health by tracking daily activities and key body functions.
3.Text services
You can text your health-related questions to a doctor for free.
Some of the services offered above are free and some are premium.Premium services are paid like
Video chat with a qualified doctor ,order test kits to your home, send them to us and your results will be uploaded automatically into the app,unlimited GP consultations for £4.99/€7.99 per month,pay-as-you-go access also available but you will not be charged until you decide to book a consultation.You can also talk in confidence to a therapist from the privacy and comfort of your home for £39 per hourly consultation.
Subscribe to our "Push Notification" service by clicking on red icon at bottom right to receive instant notifications when we publish new article. If you like this article, please help us by sharing this article on your social media profiles and by spreading good words about Lhe.io. You can also follow us on Twitter,  Google+,  Linkedin and Facebook.