Are you still struggling to get approved by Google AdSense? Did you apply many times and got rejected again & again? Don't worry! you're not alone. It happens quite often with most of the the newbie bloggers. There could be many reasons behind this. For example, you are not producing quality content, your blog does not have sufficient contents or your site design & navigation is not properly setup.
Most of the newbie bloggers apply for Google AdSense multiple times and meet disappointment every time by getting rejected by AdSense. It happened with me also and with many of my friends. But the good news is that Google AdSense is not the only advertising network for the publishers. There are plenty of advertising networks that offer competitive revenue share with their publishers (some even offer more than Google AdSense).
Why Google AdSense Alternatives?
There could be many reasons to look for Google AdSense alternatives. Some of the most common reasons are following (skip to Google AdSense alternatives directly):
Google AdSense rejected your application over and over due to many reasons including not enough content, does not follow AdSense guidelines etc.
Your website language is not supported by Google AdSense advertising network.
You're not creating quality fresh content and only posting viral stuff.
Your Google AdSense account has been terminated for life due to violations (I know it doesn't feel good).
You're tired of Google AdSense bunch of strict rules (sigh!).
You're facing expected troubles with AdSense accounts (happens rarely).
Your website revenue is dropped sharply due to low PPC.
You're not receiving quality traffic.
AdSense contextual ads do not seem fit with your site design & layout as well as with your audience.
You do not want to rely on AdSense only and want to open another revenuw stream (great! wise decision)
You're a smart blogger who know how to monetize the blog in much better way and want to earn 10x more than AdSense earnings (congratulations).
Best Google AdSense Alternatives
Let me be honest here, there is no real AdSense alternative so far. There are a lot of advertising networks but none of them is even closer to AdSense. Google AdSense is still the best advertising network that is widely trusted by millions of advertisers & publishers worldwide. Since creating an AdSense account and getting approval is not an easy process, especially for newbie bloggers, so it is better to have something instead of having nothing at all.
Following is the list of top highest paying Google AdSense alternatives 2023 that are similar to Google AdSense.
Best Google AdSense Alternatives December 06, 2023

| | | | |
| --- | --- | --- | --- |
|  Alternatives | Ad Types |  Minimum Payout | Sign Up |
|  Media.net | Display Ads & Text Ads | $100 (PayPal & Wire) |  Apply Now |
|  Ad Maven |  Popup Ads, NewTab Ads, Banner Ads, Interstitial Ads | $50 (PayPal, Wire) | Apply Now |
|  Infolinks |  In Text Ads, In Frame Ads, In Tag Ads | $50 (PayPal, eCheck, ACH, Payoneer), $100 (Wire) | Apply Now |
|  AdBuff |  CPM Ads, CPC Ads |  $100 (PayPal, Payoneer), $500 (Wire) |  Apply Now |
|  AdsOptimal |  Display Ads & Page Level Mobile Ads |  $50 (PayPal) | Apply Now |
|  Amazon Associates |  Recommended Ads, Search Ads & Custom Ads | $10 (Gift Certificate), $100 (Check) | Apply Now |
| BuySellAds |  Banner Ads | $20 (PayPal), $50 (Check), $500 (Wire Transfer) | Apply Now |
|  Adversal |  Banner, Pop-under, Ministitial | $20 (PayPal, ACH, Check, Wire) | Apply Now |
|  BidVertiser |  Targeted Ads, Banner Ads, Mobile Ads | $10 (PayPal, Payza) | Apply Now |
|  Propeller Ads |  PopUnder Ads, Banner Ads, Mobile Ads | $50 (PayPal), $100 (Payoneer), $500 (Wire Transfer) | Apply Now |
|  VigLink |  VigLink Anywhere, VigLink Insert, VigLink Convert | No Mimium Amount | Apply Now |
|   Chitika |  Targeted Ads, Mobile Ads | $10 (PayPal), $50 (Check) | Apply Now |
|  Skimlinks |  Skimlink Links | $10 (PayPal) | Apply Now |
|  Adsterra | PopUnders, Direct Links, Display Banners | $100 (PayPal, Bitcoin, Payza) | Apply Now |
|  Qadabra |  Slider Ads, Banner Ads |  $1 (PayPal), $20 (Payoneer), $500 (Wire) |  Apply Now |
REMEMBER: We will continuously updating this list with all the new AdSense alternative monetization methods. Don't forget to bookmark this page and keep checking periodically to learn more about new blog monetization programs.
Let's deep dive into these AdSense alternatives and discuss each of them briefly.
1. Media.net

The Yahoo! Bing Network Contextual Ads program powered by Media.net enables web and mobile publishers to easily and effectively earn advertising revenue. Media.net provides its publishers, a self-serve platform to create ad units that display a mix of relevant display and text ads for desktop and mobile traffic.
The company offers personalized ad units that match your website design & layout. You can also opt to show ads on mobile & tablets devices. Media.net allows publishers to withdraw earnings via PayPal or wire transfer once it reaches the minimum threshold of $100. Media.net offers affiliate program too for publishers to earn extra money by recommending it to fellow bloggers.
2. Ad Maven

In last several years, Ad Maven has emerged as one of the top alternatives of Google Adsense serving over 500 million impression every day. They offer the publishers a wide range of monetization methods such as Banners ads, Popunder ads, Lightbox, Interstitial, Slider ads and more.
Their registration process is very simple. Once you sign up, you will be approved instantly and get access to Ad Maven's highly intuitive platform. Ad Maven identifies your website type and presents to your users ads that are most likely to convert, thereby increasing your revenues for all GEO's.
Ad Maven also offers ad-blockers bypassing solution allowing you to show ads to 100% of your site visitors, to increase your revenues up to 50%.
3. Infolinks

Infolinks is in-text link ad network and one of the top alternatives for Google AdSense. Currently, it serves targeted text based ad on over 125,000 sites worldwide. If you website is content rich (you've produced large articles), it works perfectly. Furthermore, you can also use it with Google AdSense as it is fully compatible with it.
It doesn't offer contextual ad units like Media.net or Google AdSense. It offers 4 types of ad units: in-text, in-search, -in-tag & in-frame. But the most popularly and probably widely used is in-text ad unit, followed by in-frame ad unit.
Infolinks offers various payment method including PayPal, eCheck, Payoneer, ACH & Wire. For bank transfer, $100 is the minimum payout threshold. For PayPal, eCheck, Payoneer & ACH payment, you must earn at least $50.
4. AdBuff

AdBuff is probably the best Google AdSense alternative as it outperforms AdSense in many ways for the publishers and claims to double your page RPM with their innovative ad units. AdBuff is a real time bidding (RTB) platform which means that you will always get highest available RPM. It is fully compliance with AdSense so you can use it along side to double your page RPM.
Since AdBuff offers highly targeted ad network, it has very strict approval process for the publishers & the advertisers. The publishers must have English language websites with large portion of traffic coming from the United States, England, Canada & Australia — at least 2,000 unique visitors per day. The high quality publishers who are actively looking for AdSense alternative, AdBuff is the best choice.
They assign dedicated account manager to each publisher to review their ad performance and to help them optimize. AdBuff offers industry leading 90% of revenue sharing with publishers (20% more than AdSense). Publishers can withdraw their earnings via PayPal & Payoneer ($100 minimum) or via Wire Transfer ($500 at least).
5. AdsOptimal

Launched in 2013, AdsOptimal is very popular among bloggers and content marketers as a Google AdSense alternative. They are serving over 100,000 sites with their optimized display ads & 360° virtual reality full page mobile ads.
AdsOptimal offers very competitive rates as they shows high quality ads from high-profile buyers. So you do not need to complaint about good earnings as compared to AdSense. If you're running a blog with healthy traffic, you can easily earn good amount from AdsOptimal. Moreover, if you own a premium blog, you will get $15 additional bonus on sign up. The minimum withdrawn threshold is $50 via PayPal or Check.
6. Amazon Associates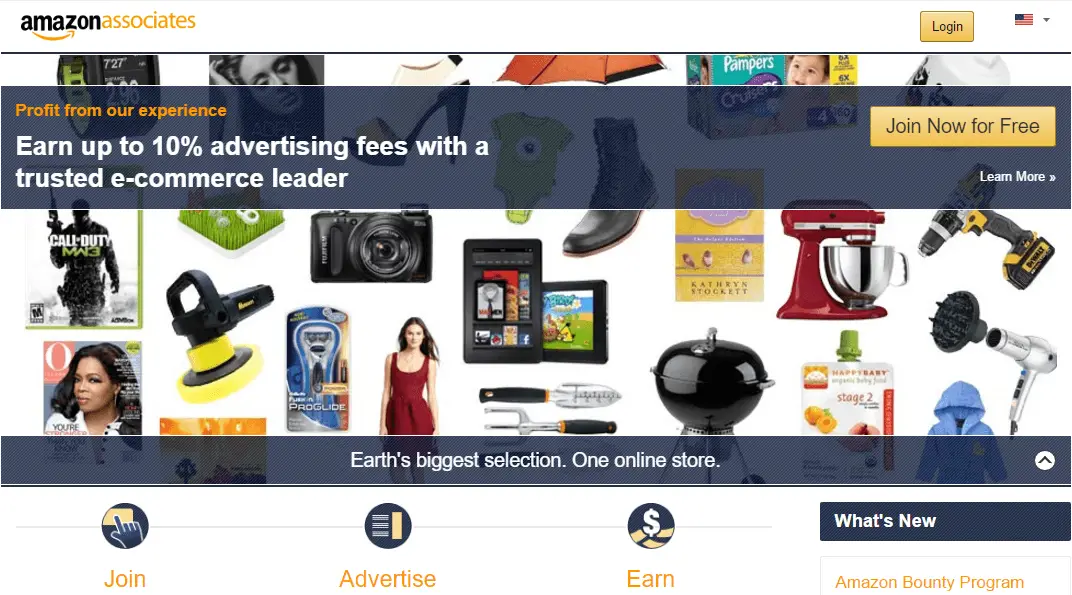 Amazon Associates is one of the biggest affiliate networks for promoting consumer products like books, tools, toys as well as household items. It allows you to promote any item that is sold on their platform to earn commission.
Amazon Associates is one of the best AdSense alternatives for niche websites that are targeting specific type of buyers. If you're running an e-commerce website, then Amazon Associates is the best advertising choice to earn great money by display Amazon's best selling products ads. Amazon offers three type of advertising choices: recommended ads, search ads & custom ads.
In my opinion, if you have good US & EU traffic, then Amazon Associates can be an ideal AdSense alternative. The minimum payout limit is $10 via Amazon's gift card and $100 via Check.
7. BuySellAds

BuySellAds is slightly different than other ad networks we discussed before. They do not offer contextual ads directly. Instead they are an advertisement marketplace that connects the publishers directly with the advertisers. They only accept high-quality traffic websites. When you apply for BuySellAds approval, they look at your traffic statistics, Alexa score, inbound link count and other metrics to determine your site's overall quality.
Unlike other ad networks that offers CPC & CPM based ads, BuySellAds plays the role of middleman between the advertisers & the publishers to enable direct advertisement. In return, they charge 25% of commission on gross revenue. So you get paid up to 75% of revenue.
BuySellAds supports many form of ads, including background takeovers, display, email newsletters, RSS feed ads, image plus text ad & just text based ads. The minimum payout threshold is $20 via PayPal, $50 via Check and $500 via Wire Transfer.
8. Adversal

If your website gets over 50,000 monthly page views, then Adversal is one of the best AdSense alternatives for you. They offer high CTR and supports several languages. If your website meets basic requirements, it is highly possible that you get approval within couple of days.
They offer different banner sizes and ad types to publishers including banner ads, popunders ads & ministitial ads The minimum payout threshold is $20 paid via PayPal, ACH, Check and Wire Transfer after 35 days at the end of the each month. Publishers can also join their affiliate program to earn more money.
9. BidVertiser

BidVertiser is Pay Per Click based advertising network and one of the finest Google AdSense alternative. If you repeatedly failed to get AdSense approval, then BidVertiser is worth trying. They do not offer contextual ads similar to AdSense or Media.net. Rather, they have an online bidding system where advertisers can bid at publishers available ad spaces. Then the highest bidder is allowed to advertise on publisher blog.
This bidding system can be a downside as well. It takes some time to find the highest paying advertiser. So, don't expect much revenue at the start. You need to stay with them longer.
BidVertiser offers banner ads, text ads, mobile ads, targeted ads & slider ads. They pays via PayPal or Payza every month when publisher revenue reaches minimum threshold of $10.
10. Propeller Ads

Propeller Ads is a UK based large ad network that offers highly specialized popunder ad solutions. Along with popunder ads, they also offer standard banner ads, on-click ads, in-banner video ads and few more. It is mainly a CPM ad network and it would be great choice if you receive large traffic from USA, Canada, UK, Australia and other EU countries.
Propeller Ads is an ideal AdSense alternative if you are running a gaming, entertainment, movies, dating, finances, software or gambling niche website. They pay the publishers at the end of each month if they earn minimum of $50 for PayPal, $100 for Payoneer and $500 for Wire Transfer.
11. VigLink

VigLink is not a conventional ad network that offers contextual ads to target visitors based on context or visitor's interest. Instead, it works completely different. What they do is they scan the complete blog post and convert key phrases and existing links into affiliate links. If someone clicks on any of those links and makes a purchase, you'll get paid commission up to 50%.
Currently, VigLink supports over 35,000 affiliate merchants and shares between 25% and 50% of all revenue earned by clicks on links converted by VigLink. They offer three types of monetization schemes: VigLink Convert (converts regular links into affiliate links), VigLink Insert (converts popular phrases and keywords into affiliate links) and VigLink Anywhere (developed to share affiliate links anywhere including Facebook, Twitter, LinkedIn etc.).
VigLink works great if you discuss many products in one post such as products comparison blog posts and e-commerce websites. There is no minimum payout limit at VigLink.
12. Chitika

Chitika is an online ad network with over 360,000 publishers serving over four billion targeted ads per month. It has several top-tier advertising partners like SuperMedia , Yahoo! and HomeAdvisor.
Since Chitika targets search traffic, so their ads work best if you are receiving a lot of quality search traffic on daily basis. In order to get large search traffic, you first need to produce high quality content and do basic SEO to rank your website on Google search first page. If your primary traffic source is social media, type in or backlinks, I advise you to look into other AdSense alternatives as Chitika will display generic ads of less value in such a scenario.
Chitika offers targeted ads as well as mobile ads to monetize the website. Their minimum payout requirement is $10 for PayPal and $50 for Check.
13. Skimlinks

Skimlinks is the best alternative of VigLink and it works in similar fashion. It converts popular keywords and phrases as well as outbound links into affiliate links. It can be considered as a pivot of affiliate programs. So you do not need to join each and every affiliate program explicitly. Just join Skimlinks and starts earning affiliate commission.
It works great if you are running an e-commerce website or writes about different popular products on your blog. It is possible to earn 5x more than what you can earn from AdSense from VigLink and Skimlinks as they pay for affiliate sales made through their referral links on your website instead of clicks and impressions. The minimum payout is $10 and they only offer payment via PayPal.
14. Adsterra

Adsterra is a premium advertising network for publishers as well as for advertisers serving over 10 billion geo-targeted ad impressions per month. They offer high CPM rates with global ad network coverage. Adsterra has several popular monetization ad units for web and mobile devices including popunders, standard banners, pushups, interstitial, sliders, and direct links.
Adsterra works great with all types of websites worldwide. They pay the publishers bi-weekly via major payment gateways such as PayPal, Bitcoin, WebMoney, Payoneer, Wire Transfer, Paxum, and Payza. they minimum payout limit is $100 for all payment methods. They also offer a personal account manager for each publisher as well as real-time statistics provided through Adsterra API. Adsterra also runs an affiliate program where you can earn up to 5% of referral earnings.
15. Qadabra

Qadabra is the last ad network in our Google AdSense alternatives list. It is self-serving ad network that offers performance based advertising solutions. Previously, it was known as AdsGadget. It takes just 1 minute maximum to Qadabra to start showing ads on your site once you sign up and your account is approved.
The important monetization methods offered by Qadabra includes banner ads as well as slider ads. It is also possible to run slider ads on top of banner ads with Qadabra. They start paying your as soon as you start earning your first $1. They don't have any minimum payout requirements for PayPal. You can even withdraw $1 into your PayPal account. For Payoneer and Wire Transfer payment,  you must have $20 or $500 respectively.
Conclusion
Above are the top 15 highest paying Google AdSense alternatives for bloggers and techies. In reality, none of them can match the earning potentials of Google AdSense as it is a very large ad network that is trusted by millions of high profile advertisers and publishers around the globe.
But if your AdSense account is terminated or you're struggling to get approved for AdSense, there is need to stay idle and do nothing. You can still somehow recover your AdSense lost earnings by using a combination of two or more at networks at once. You can do A/B testing to find out which one is most suitable to your website design and visitors. For example, you can use Skimlinks or VigLink with Media.net contextual ads to generate maximum revenue.
Which one of the above AdSense alternatives have you used so far and which ad network worked the best for you?  Tell us in the comments and help the fellow visitors find the most optimal alternative!
If you want to receive weekly blogging tips, marketing news, tutorials, plus news & discount coupons, please subscribe to our newsletter. You can also follow us on Twitter,  Google+,  Linkedin and Facebook.