The young blood is really giving tough time to professionals. Reports have been found like how young generations are hacking renowned smartphones just in a minute. We have currently got to know about Anvita Telang, she lives in Pune (India) and has won the contest  "Doodle for Google" 2016.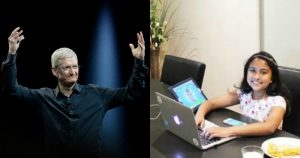 Today, the topic which is under discussion is about a 9-year-old little girl who is the probably the youngest  developer ever. She has recently attended Apple's WWDC'16. You know what is the amazing thing? This little 9-year-old girl is way better at coding than many of the professional coders.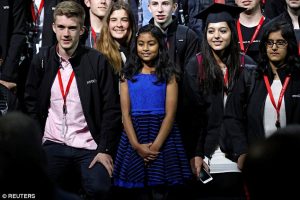 Anvitha Vijay is one of the receivers of 350 scholarships handed/given by the CEO of Apple Tim Cook, at the event of WWDC 2016. He has Awarded 9 years old Anvita and being the youngest iOS developer may be one of the strategy of Apple.
However, whether its a strategy or anything else, it is not going to hide the reality that this little young blood is way better in coding than mostly adult, even most of the professionals found it difficult.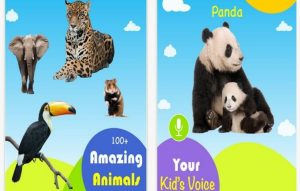 Smartkins Animals is the name of very first app coded by Anvitha. She made this app in order to help her sister to identify animals immediately. This app's working is to teach little children about animals. This app has been downloaded a few hundred times after her interview about all this, which was really a short period for any app to be downloaded by others.
At the age of 7, Anvitha Vijay initiated her self selected coding career. This is usually an age in which her age fellows struggle to solve their mathematical problems. "I learn codes through watching programming related tutorial on Youtube" she replied when asked about how she knows or learns coding?. As 13 years is the minimum mandatory age for the users to upload anything on iTunes account, so she used her mother's smartphone for the submission of this app..
Apple's new programming language is Swift, whilst Anvitha Vijay used Xcode to code her very first app. Now-a-days she is working on an app viz GoalsHi, which is quite helpful for students to gain confidence in the classroom and Anvitha has switched from Xcode to Swift to code this app.
When it was by Anvitha to share about her feelings like how she feels being elected as the Apple WWDC's youngest developer, her response was  "It was like a dream comes true and I'm much excited after meeting so many people,". Moreover she explained "I've just touched the tip of the iceberg in coding, there's so much to explore and learn" and when she was asked about Tim Cook she responded "he's really nice," and "really good."
Anvitha Vijay is surely going to have a brightest future, and this is also being displayed in her Business card message that is "I want to make a difference in people's lives through technology". We look forward to have positive and productive changes in future.
To Read More: Meet SOFIA – A Humanoid Robot