Bitcoin is a type of digital currency that allows people to buy goods ans services, exchange money without involving 3rd parties like banks, credit cards, or even governments. Bitcoin is unlike the traditional fiat currency system that we use today where all money is created and controlled by central banks such as the the State Bank of Pakistan. With Bitcoin, there is no central authority and as such is referred to as a "decentralized" peer-to-peer payment network. Broken down simply, you can think of Bitcoin as cash for the Internet.
In following article, we will discuss how Bitcoin works, who controls it and some interesting facts about the digital currency.
Who controls Bitcoin?
Who invented this currency? it has long been a mystery — though, there are many people who claimed the creator of Bitcoin but none of them is considered verified. In such last attempt, an Australian name, Craig Wright, came out as the mind behind Bitcoin but it was proved false later on.
With Bitcoin, the Internet has created a third way to back/secure a transaction. Instead of a bank or government to rule over Bitcoin, the power rests in the collective community of Bitcoin users and that is where Bitcoin is so revolutionary.
Nobody owns the Bitcoin network. Just like nobody owns the technology behind text messaging. Bitcoin is software with checks and balances that is controlled by the collective community of Bitcoin users that are connected to the network at any given time.
How does Bitcoin work?
Since Bitcoin is not part of any bank or government, it is a way of spending money online anonymously. From the user perspective, Bitcoin is simple – it's simply an app or a website which provides you with an online wallet (similar to a bank account) that allows you to send or receive bitcoins to or from that wallet.
But behind the scenes is where Bitcoin's technology innovation comes into play. At the heart of the Bitcoin protocol is a public ledger called the "blockchain". This public ledger is a record of every bitcoin transaction that has ever occurred – all the way back to the very first bitcoin. Every time a transaction occurs, it is recorded in the public ledger and its validity is assessed via the bitcoin software that every user is connected to.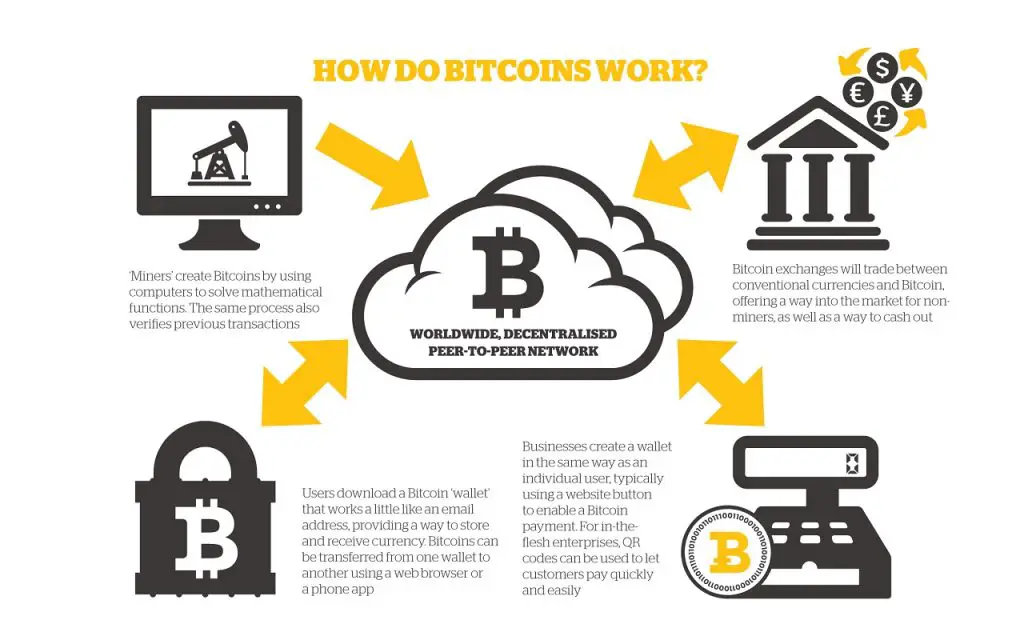 Bitcoins can be bought or sold on exchange with US dollars and other currencies. The price is not fixed for Bitcoin and it fluctuates regularly even after minutes. At its peak in late 2013,  one Bitcoin was sold above $1,100. Today, it is worth $500-700+ on average.
Why Bitcoins are popular?
Since, Bitcoin transaction is completely anonymous & decentralized, it is a top choice for many people who want to exchange goods without revealing their identity as well tech enthusiasts, speculators — and hackers. It is kinda waves of computer code that are digitally signed each time they travel from one wallet to the next wallet.
How Bitcoins are kept secure?
The Bitcoin network works by discouraging individuals' greed for the collective good of the community. A network of tech-savvy users called miners keep the system honest by pouring their computing power into a blockchain, a global running tally of every Bitcoin transaction. The blockchain prevents rogues from spending the same Bitcoin twice, and the miners are rewarded for their efforts by being gifted with the occasional Bitcoin. As long as miners keep the blockchain secure, counterfeiting shouldn't be an issue.
How Bitcoin is unsafe?
Because the currency isn't formally regulated yet by any institution or government, it can be vulnerable. Much of the fraudulent Bitcoin incidents occur at the places where people keep the digital cash or exchange it for traditional currencies such as dollars or euros.
If an exchange has bad security or if the electronic wallet is compromised, then the money can easily be stolen. There are many such incidents happened in past that led to lost of millions of dollars. The biggest scandal involved Japan-based coins exchange Mt. Gox, which went offline in February 2014. Its CEO, Mark Karpeles, said tens of thousands of Bitcoins worth several hundred million dollars were unaccounted for. He was arrested on suspicion of inflating his cash account in August.
Should I trade in Bitcoins?
Well, this could be a questionable decision. Many small to big businesses such as blogging platform WordPress, retailer Overstock, freelancing marketplace Fiverr etc. have already using Bitcoins for exchanging the products and services amid a flurry of media coverage. Top Bitcoin payment processor BitPay works with tens of thousands of businesses and organizations, while the total number of Bitcoin has climbed to over 275,000 per day, according to Bitcoin wallet site Blockchain.info.
From where can I buy Bitcoins?
Though, there are many marketplaces for buying and selling Bitcoins like CoinBase.com, CoinDesk.com etc. but not all are available to trade Bitcoins all over the world due to government and financial institution restrictions.
Subscribe to our "Push Notification" service by clicking on red icon at bottom right to receive instant notification when we publish new article. If you like this article, please help us by sharing this article on your social media profiles and by spreading good words about Lhe.io. You may also want to follow us on Twitter, Google+, Linkedin and Facebook.