An initiative of harmony is created between China and Pakistan in the form of CPEC. As earlier discussed in one of my articles  A Pivotal Project under the China-Pakistan Economic Corridor (CPEC)
China-Pakistan economic corridor (CPEC) is a mega commitment or project of USD 45+ billion taking such different relationship between Pakistan and China to new heights. The project is the initiative of a new journey of prosperity of Pakistan and China's Xinjiang. This CPEC is about 3000 Kilometres long which includes pipelines, railways, and highways which will integrate China's Xinjiang province with the remaining world through Pakistan's Gawadar port.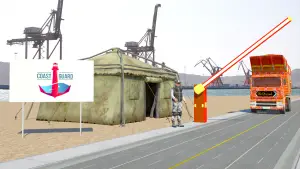 As the Gawadar Port became the convoys that connects within Quetta which took diverse routes. One convoy has departed from China, carrying about 150 containers which were later loaded onto Pakistani trucks at the border of Sust, which crosses south of Khunjerab in the Northern Areas.
This convoy carries the cargoes in bulk which are to be shifted onto the two vessels already  berthed at Gawadar port. It carried trucks of 57 feet and thus completeed its journey in the   Karakoram Highway. It then moved towards East Jund on the Indus river bays almost 100km to the south of Attock.
It was integrated by another convoy at East Jund whose origin invented in Sialkot, along with 50 trucks loading about 100 containers and collectively the whole convoy passed the Indus river to Kohat. There they stayed the night before en-routing towards Dera Ismail Khan, then Zhob and then Quetta. Eventually here it stayed for another night.
They were connected by a third convoy whose origin invented in Sialkot and Lahore comprising of around 45 trucks loading probably 90 containers that en-routed toward south to Sukkur. Then west on the N65 highway, it passed Sibi and Mastung just before connecting with their companions staying in Quetta.
This convoy en-routed from Quetta towards N85 highway that passes through Kalat and Panjgur to Hoshab where it cut across the M8 highway that passes through Turbat to join up with the Makran coastal highway, just east of Gawadar.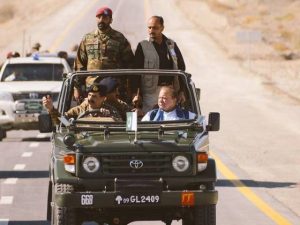 This is the famous picture was taken on M8 where Pakistan's Prime Minister and Army Chief  was riding together in a jeep.
Ranging from Chinese machinery to rice and cotton was carried by these cargo containers. Few of these are destined to Gawadar for the undergoing growth and development activities here, and the remaining en-routing abroad.
Al Hussain Zanzibar and Cosco Wellington were the two ships that berthed at Gwadar to attend the cargoes. As per the information provided by the FWO, they are making sails ready for ports in the Bangladesh, Sri Lanka, the UAE and the EU late on Sunday.
Chief of FWO said "Since 2014, for CPEC projects in Balochistan, almost Thirty-Five Billion Rupees has been spent on the road infrastructure".  He said he compelled for the convoys to take these ways and routes to depict that the road infrastructure which was built during this time period is totally capable of handling and maintaining cargo consignments of this size.
To Read More: Pivotal Project China-Pakistan Economic Corridor (CPEC)