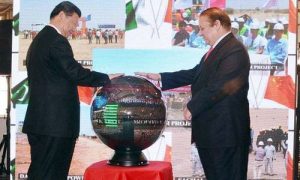 On Sunday, at the grand inauguration ceremony of Gawadar Port, Pakistan's Prime Minister Mian Muhammad Nawaz Sharif traced the opening and operationalization of the trade specific deeds, pursuit and activities.
The departure of Gawadar Port's very first major cargo trade emphasized the commitment between Pakistan and China ( Belt-One road initiative of China), said Pakistan's PM Nawaz Sharif during his address of ceremony.
He said we will do everything in ensuring the China Pakistan Economic Corridor (CPEC)  and all its underlying perceptible projects are coming into its existence following the given time period. 2 years ago this doctrine was proposed and today marks the breaking dawn of a novel chronology.
PM Nawaz also addressed the smaller provinces' queries which say that this Pak-China project will not benefit them, he said "CPEC is for whole Pakistan and no area or province will remain left out of it"
"Balochistan's novel-constructed roads have made up new doorways for the region or areas that were deprived of development, deteriorating and inaccessible and it has converted violation into peace", said PM Nawaz.
"Balochistan's government and the Army have seen success in creating the local population a stakeholder in development. Growth can never be uphold if it produces islands of prosperity. It must get access to the lives of those poor souls who have faced poverty and backwardness," said the premier.
He said "The China Pakistan Economic Corridor (C.P.E.C) project is an initiative of numerous region's development and it indicates the Pakistan's vision that it will be transforming into a mighty hub of trade and commerce till 2025, moreover Geo-Strategic locations will be converting into Geo-Economic advantages"
"Forty-Nine Billion Rupees have been spent by government. And the projects worth Two-Hundred Billion Rupees will be launched next year" said by PM.
He said "CPEC will help in bring together Central Asia, South Asia and China and will provide chances & opportunities for this region's people and the whole world's investors".
"We have got success in concreting anti-state elements, and the law & order position has improved, this is all because of the conforming efforts of government and the security forces active participation."  Said by Balochistan's CM Nawab Sanaullah Zehri in his address to the ceremony.
Deep and intense grief of Balochistan Khuzdar Shrine's brutal attack was shared by PM Nawaz, in which 100 people got injured and about 52 lives got lost. 
Moreover Asim Bajwa the Director General Inter-Services Public Relations, said that the very  first major trade convoy of containers has reached from China and will be loaded onto ships.
Radio Pakistan reported that "From china to Middle East and African countries shipments, China's goods are ready at Gawadar Port."
Chinese Ambassador to Pakistan Sun Weidong told the ceremony today."This happened once in a blue moon that a trade convoy with triumph has passed from the north to the south, through the western part of Pakistan . It indicates the integration of the local roads and the realization of the idea of one corridor with multiple passages."
"It is happening for the first time that the Gwadar port has initiated exports of containers to overseas places. It hypothesis the port has restored it designed handling powers and capacities," he said. "This is also the first time that Pakistan and China co-organized a trade convoy through Pakistan to Gwadar port."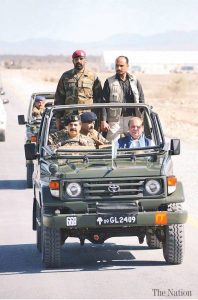 Following Top civil and military leadership will attend at the event:
 Chief of Army Staff Gen Raheel Sharif,
Balochistan Governor Muhammad Khan Achakzai,
Balochistan CM Nawab Sanaullah Zehri
Punjab Chief Minister Shahbaz Sharif
Executives from Sino Trans, a Chinese logistics company
Ministers for defenceand planning and
A number of politicians, especially from Balochistan.
This is the biggest gathering of VIPs organized by Gwadar since it witnessed the signing of the 2009 National Finance Commission Award.
On Sunday, at Gawadar the first consignment of cargo from China to depart from Pakistan's port has arrived under tight security.
A stream of trucks of variety of sizes brought up into a line outside the port to be separately scanned before going to the attendant, all day long.
To Read More: US presidential election results 10 things pakistanis concerned