I Love My Heaven-Like Germany
Have you been to Europe? Specifically Germany? If yes then you are the luckiest among 7.4 Billion people of the world. But if you haven't seen Germany up till now then I must say you are missing out an amazing and important chunk of your life.My mind always roams about the things like why I'm in love with this place? As Germany is my birthplace, so am I being bias about it that "I love my place" or there is some other reason behind this attraction?
But wait…what reasons why Ich liebe Deutschland?
Ich liebe Deutschland (I love Germany) because it,
is an effective global influencer?
a model of modern diplomacy?
celebrates best beer festival?
is a finest pastry maker?
has world's longest bar viz. "Düsseldorf Altstadt".
has romantic roads especially around Frankfurt Airport?
let enjoy people with its great traditional, contemporary and classical German music?
has fascinating train stations and subways?
gives opportunity to explore the twilight world in its dense "Black Forest"?
has world's best art galleries?
has fairy-tales-like castles?
has Berlin Wall Memorial?
has some of the finest sand in Europe?
has many exotic beaches and charming resorts?
has toll-free Autobahn mesmerizing highway?
has best Christmas Markets?
has marvelous cascades and waterfall?
has stunning cold night atmosphere?
has heaven-like buildings touching the seventh sky? And many more..
Below is the video that tells some amazing things about Germany
Yeah! This could be the reasons that I think Germany is the best among all. It was my point of view, but what the whole world thinks?
You May Also Like: Dance, Music & Food: Landerabend Pakistan At Saarland University (Germany)
U.S News and World Report
After doing a survey of total Thirty Six (36) countries in four major continents namely Europe, America, Asia and the Middles East & Africa that was based on global performance (including many categories like heritage, quality of life, power and entrepreneurship) by 16248 individuals, U.S. News and World report evaluated 60 countries. According to this report Germany has been deemed the best county among all the nominated 60 countries. While Canada, United Kingdom, United States, and Sweden are also among the top countries of global performance ranking 2nd, 3rd, 4th and 5th respectively.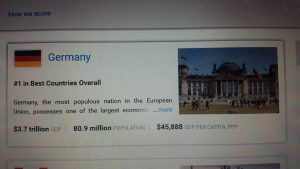 The major credit of this achievement goes to the Chancellor Angela Merkel, who backed the Germany through higher support and limitless helps in order to dig out Germany from its deteriorating condition after World War 2, thus country of 80 million populations flourished again and today became the leader. She was given an award of Person of the Year in 2015, which is a live proof of her struggles.
More over Germany's top position is also because of other number of factors. This is the country with the strong score in the "entrepreneurship" sub-ranking, informed by high marks given to their infrastructure, education and skill level of their labor intensiveness. Other categories Germany gained best scores include "power" — which combines military might and economic success to score a country based on its global influence — and "quality of life".
Other Sub rankings
Under the umbrella of main list, there are other 9 sub-rankings in other different countries are leaders but in different line of categories. Those countries are following:
| | |
| --- | --- |
| Country | Leading Category |
| Italy | Might Heritage |
| United Nations | Quality of Life (Norway) |
| Brazil | Best Adventure |
| Spain | Might Heritage |
| France | Cultural Influencer |
| Greece | Might Heritage |
Below is the video about U.S. World News, have a look
For more updates subscribe to our "Push Notification" service by clicking on red icon at bottom right to receive instant notifications when we publish new article. If you like this article, please help us by sharing this article on your social media profiles and by spreading good words about Lhe.io. You can also follow us on Twitter,  Google+,  Linkedin and Facebook.
Read More: Pakistan's Provinces & Their Life Style, Culture, Language and Customs