Länderabend Pakistan (Pakistan evening) event was held at University of Saarland, Germany on Friday evening. It is a traditional event at Saarland University that provides an opportunity to foreign students to showcase their country's culture, food, and music. The Pakistani students at Saarland University organized this event that was attended by a large number of local and foreign students.
The Beginning
The event started with a short introduction of Pakistan: the geographical location of the country, the famous individuals in Pakistan and a brief speech about each province. This was followed by a couple of dance performances on Blochi & Punjabi music.
And here comes the famous Punjabi Bhangra! Weldon, guy!
And then there was live song performance:
The Food
If there is a Pakistani event and no traditional food is served, that is impossible. Thanks to organizer team who prepared very delicious traditional Pakistani dishes such as Beryani (my all time favorite, lol), Pakoras (it was worth eating, wow), Gulab Jamun (who doesn't like it?), boiled rice with vegetable sauce (for vegetarian students) etc. I must admit  that the food was tasty and everyone enjoyed eating it.
… and back to music!
Just after the food was served, the momentum was shifted back to music again. This time, it was just music and dance for next one hour at least. It was indeed entertaining to watch local & foreign students dancing on Qawali & Punjabi songs.
Event Highlights
Following are some of my favorite snaps from yesterday's event.
.. last but not least ..
Thanks to Google Photos for creating this epic GIF (no offence intended).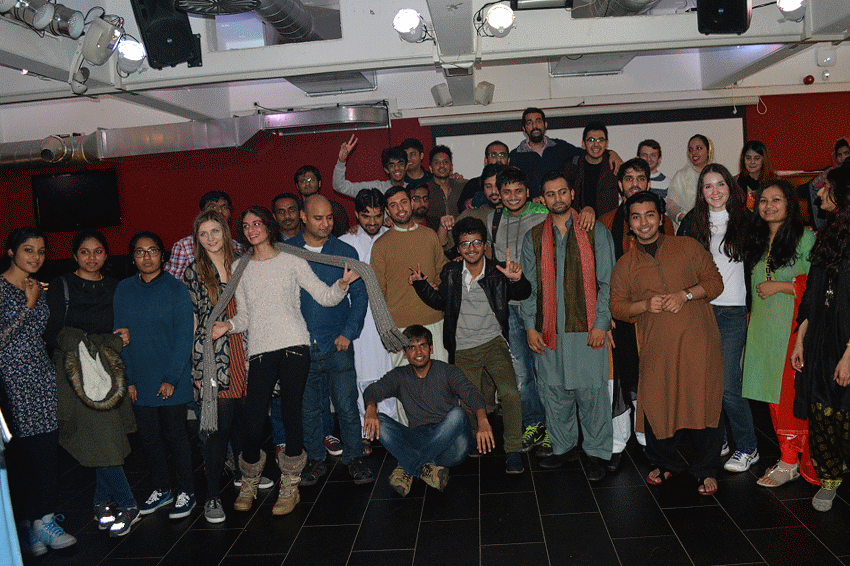 Lhe.io brought this news to you because one of our team-member attended the event. If you find any image or text part that harms your privacy, please let us know and we will remove it. All the images are under Creative Common License (CC) that allows you to freely download and distribute these images.
Read next: Top 10 Monuments from Pakistan You Must See
If you like this article, please help us by sharing it on your social media profiles and by spreading good words about Lhe.io. You may also want to follow us on Twitter, Google+, Linkedin and Facebook.