You might have come across many events in Pakistan, organized and managed at higher levels, sponsored by renowned brands. Such events are mostly the result of celebrations of special occasions i.e. organization's silver/golden jublie, independence day, inauguration of new branch etc which hardly lasts for a day. But I'm sure you had never ever heard about the organization of concert as a refreshment after spending a hardworking and hectic week. Well this actually happens! where? In your Pakistan's notable institute Kinnaird College for Women University Lahore, also known as  KC.
Last week was the business Week in KC, called Kinnaird Business Week or KBW. It is one of the great events of KC that it arranges by itself. It lasts for literally a whole week. Students participate in this event with full zeal and zest. There are different categories for students to participate in, and also first three winners get a handsome amount of cash as a prize. Moreover different stalls of food, handcrafts, mehndi, and of many other things are arranged by students, it develops the sense of doing business among students at this very age. A lot more happens in this special week. To read more about whole event go through Kinnaird Business Week
Every year after spending a whole hectic week, KC organizes an indoor Concert! Institute gives several options of the available artists and singers to the students and they are free to vote for those artist they want to hear in concert because it is solely for their  own entertainment. With the result of votes artists are selected and called for the concerts. And also some organizers and sponsors are called for the event.
Last Friday, Kinnaird Business Week Concert was held in KC. Kinnaird College's events are always so amazing and thrilling. Its audience is so crazy that every single artist who comes to Kinnaird College says like he/she never saw such enthusiastic people in entire life. It is like an honor and proud for this institute that everyone admires it.
Host of the KBW Concert'16
The host was himself a great entertainer, Rj Zohaib Azhar.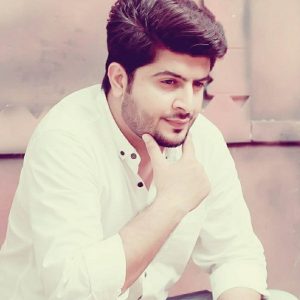 He is an official host of PCB, and other many renowned channels. Also he is an Actor, Writer, Director and Marketer. Zohaib is blessed with an ability to interact and entertain his audience beautifully. In the recent concert of KC he created an memory with KCites by making hearts with them, below is the picture of that flawless moment.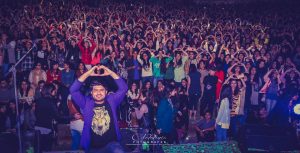 Sponsors of the KBW Concert'16
While following is the list of the sponsors and partners of KBW
Ali Akbar Group Pakistan
Master
Haleeb Foods
CocaCola
Gourmet
MCB Lite
Plan 9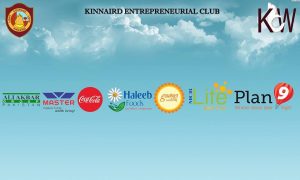 All these sponsors made this event much exciting and successful.
And And And…Artists?
Along with underground bands, 3 dominant singers set KC's Amphitheatre on fire!
1. Hamza Malik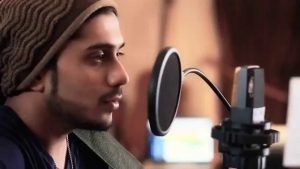 Hamza Malik is one of the renowned singer of Pakistan. He boosted the energy level of KCites by his exquisite voice, also he was quite interactive with the audience, and gained much attention.Here is the recent video of Hamza Malik singing live in Kinnaird College For Women University
2. Abdullah Qureshi
Who doesn't know him? Abdullah Qureshi is also a singer of Pakistan and famous with the name Youth Sensation. He is much handsome and a soulful composer, which is considered perfection among girls. He sings in such a flow that listener gets lost in another world. When he came to the, whole crowd got mad. Lets have a look on his entry
Isn't it Crazy?
An epic moment was created by him, don't miss it, just watch it <3
It was like Awww moment:)
After this, he sang the most beautiful song "Afreen Afreen". In Coke studio season 9, Rahat Fateh Ali Khan and Momina Mustehsan sang this delightful song, but they missed the most heart-touching verse of this particular song. And Abudullah Qureshi soulfully sang it on KC platform..
Aankhein Daikhe To Mein Daikhta Reh Gaya
(Jaam Do Aur Donon He Do Aatisha)
Aankhein Ya Maikade Ke Yeh Do Baab Hein
Aankhein Inko Kahoon Ya Kahoon Khuwaab Hein
Aankhein Neechi Huwi To Haya Bun Gayi
Aankhein Unchi Howi To Dua Bun Gayi
Aankhein Uth Ker Jhuki To Ada Bun Gayi
Aankhein Jhuk Ker Uthi To Qaza Bun Gayi
Aankhein Jin Mein Qaid Aasman O Zameen
Nargisi Nargisi, Surmayi Surmayi
Aafreen Aafreen, Aafreen Aafreen
That phenomenal video is here
3. Noori
Well Noori also doesn't require any introduction. Their singing speaks all over the world. It was for the    first time that Noori came to KC. And you know what did they say when KC welcomed them first time? said "Why didn't we come here before". After Abdullah Qureshi, Noori made everyone dance. Even their entry was so energetic? Wanna see? Click below:)
This massive crowd got insane before these two. And when they sung "Sufi Kalaam", they Wow-ed the night!!
Aik Alif by Noori (Live in KC)
It was literally a worth-watching Concert. Kinnaird College gives chance to promote such talent, and also take care of its student's mind refreshing activities along with quality education. KC is such an amazing platform!
Read next: Dance, Music & Food: Landerabend Pakistan at Saarland University