This particular blog is going to help you to avoid key-loggers by encrypting your keyboard. Go through the full blog and follow the full method.
What is Key-logger?
Key-logger is a computer program that records every single  keystroke stroke by a computer user, specifically in order to get fraudulent access to confidential information like passwords etc.
What does it do?
Key-loggers are harmful for the system as well as for user as they can record all of your keystrokes, trace your activities and record the sites being opened by you. By this, many of your accounts can be hacked easily by the hackers. With ease, these key-loggers can detect your bank accounts passwords too. So it would be better to avoid them as much you can before they hack your life.
Sounds Scary? Well you don't need to be scared if your are going to follow the method that is described below. It is such a cool security tip that surely will help you in this regard. Recording the keystrokes is the main working of key-loggers, so to avoid keystrokes spoofing from these key-loggers, you can encrypt the keystrokes.
How does Keyboard Encryption work?
If we begin encrypting keystrokes of a keyboard, then the value or the character that key-logger will record against that particular stricken key is different from the actual one, that means only random characters are being recorded by loggers.
Method to Avoid Key-Loggers
As I discussed above Encrypting the Keyboard is the most useful method to avoid key-loggers, so I'm going to write about Keyboard Encryption.We will be making use of Key-Scrambler software to encrypt our keyboard. So have a look on the simplest steps below to implement this in your Windows PC.
Step 1
In the very first step, download the Key-Scrambler, as shown in the picture below:
Step 2
When you are done with downloading, install the key scramble and then reboot it.
Step 3
Now when computer rebooting ends up, right click on the icon of Key-Scrambler in the system tray at the bottom of a screen.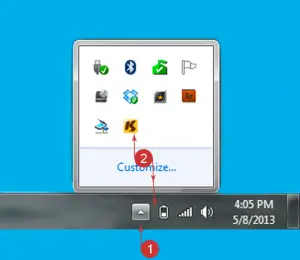 Step 4
And now select Options from there and Key-scrambler will be opened and you will see your screen like below.
Step 5
Now you can change these settings in it, according to your desire and after that just click on Ok. Now your keyboard encryption software Key-Scrambler is ready to use and will protect your credentials.
Open up your browser and type anything you want, you can see there that your keystrokes are being encrypted.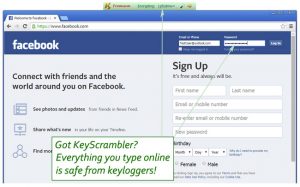 Enjoy your safe & secure browsing and typing!
To Read More: 6 Ways To Change And Hide Your IP Address