Global warming refers to the gradual increase in temperature of the earth. In other words, climate of earth is changing due to the green house effects that include some gases which are radioactive in nature and eventually warms the earth's atmosphere also effecting the ozone layer. For Planet earth, the major concern is How this raise in temperature is going to effect the ecosystem? Earth temperature has been raised between 0.4 and 0.8°C over the past 100 years. It would be a very little amount of increase in temperature but it has disastrous effects. It is also predicted that this temperature can rise up between 1.4 and 5.8°C by the year 2021 which is not that much far.
It has been so long since scientists are keeping record of temperature and according to their reports from 2013-till this date, Earth has suffered highest temperature years in a row. Sea level is rising slowly but steadily due to the melting of ice caps. Scientist have warned that Arctic ice is melting rapidly because something weird is happening at that part of the earth. They have warned that if this rapid action of melting will be continued than it would turn into a night mare. Moreover, this Arctic warming could be felt as far as the Indian Ocean is. Temperature of Arctic region is off charts as it is 20°C higher than the normal Arctic temperature. Scary right?
In the North pole, the sun has set a month ago which means that there will be no sun light for at least six months in this region. It is the best time when ice spread its tentacles across the sea by increasing its depth and thickness. Unfortunately, the ice has stopped its growth even it has started to shrink slowly. Even more scary news, by the end of October the Arctic was missing a part of ice which wasn't a small chunk. It size was equal to the size of Western U.S.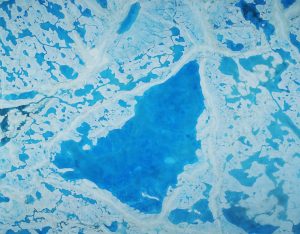 This is how Arctic region looks like due to melting of ice.
According to resources, old ice that was thick has all disappeared now and the new ice which has formed is still thin and brittle and will easily melt away with this continuous increase in temperature. There is no wrong in saying that these climatic changes are the cause of floods, Hurricanes and tornado. For the past few years many people have died due to these humanly created global warming effects. The major concern is that many serious and drastic changes are happening but still people do not understand. Scientist are doing more researches and they are trying to figure out how they can stop this melting.
Global Warming is clearly not good for this planet and we humans are the one to create this disaster for our own-selves; We created nuclear bombs; we are the ones who are contributing towards increase in pollution; We are cutting trees to make our homes. Have you ever thought what we are doing for our future generations? WELL! if global warming will increase with this ratio then there wont be coming any future generations because "Mankind is on extinction"!
For more updates subscribe to our "Push Notification" service by clicking on red icon at bottom right to receive instant notifications when we publish new article. If you like this article, please help us by sharing this article on your social media profiles and by spreading good words about Lhe.io. You can also follow us on Twitter,  Google+,  Linkedin and Facebook.
Read more: Crazy Fights on Black Friday Sale