Government in Punjab and KPK  are stepping forward to digitize their services. Recently KPK government has started digitizing its land records in order to reduce corruption and end the influence of "Patwari Culture".
Now Punjab Government has taken a very good step by introducing a mobile application which is made with the collaboration of PITB. According to DIG Operations Dr. Haider Ashraf purpose of this app is to ease people's life by giving them a quick access to police office and decrease distance between people and police. Crime reporting will be much easier with this app. People just have to download this app from Google Play Store on Android device. GPS and Internet connection is a must to get facilitated by this app.
When a user installs this application he/she has to fill his/her personal details like Name, Address and Email etc.In this way nobody will be able to misuse the app by notifying false incidents. Otherwise strict action will be taken against user. Currently this application is launched for the user of Lahore, so its named as Rescue 15 Lahore. People within Lahore can only use this app.
This Rescue 15 Lahore app has different features: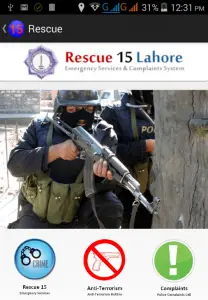 Rescue 15 Lahore allows the user to contact rescue 15, report a crime or file a complain. User can call Rescue 15 or submit a crime report by selecting its type from a drop down menu or  a complain in a textual form. Further user can attach the pictures of the incidents with the report.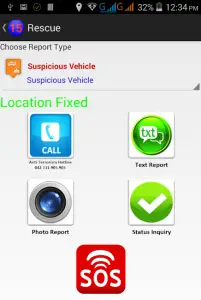 Note: Any false news or misuse of the app will result in enforcement of cyber crime act with immediate and severe action.