Facebook has announced the launch of Marketplace to let the users buy and sell items with their local community fellows. The company says Marketplace – which launches this week in US, UK, Australia and New Zealand – is expansion of existing features on the social network.
Facebook is a community of 1.71 billion monthly active users — nearly 23% of world's population. Over 450 million people already use Facebook to buy and sell goods every month, mainly through its groups selling feature. With the launch of Marketplace, Facebook will be able to capitalize the high number of users by providing them a more formal way to exchange goods.
See also: Facebook releases Messenger 'Lite' for Android
The Marketplace will be accessible through a shop icon on Facebook app, replacing the current Messenger icon. Anyone could access the Marketplace by clicking on the icon in the center of the bottom row on Facebook's mobile app to view all the products one may be interested in. The user will also be able to rate the items quality by clicking on like or dislike buttons.
[boombox_row][boombox_one_half]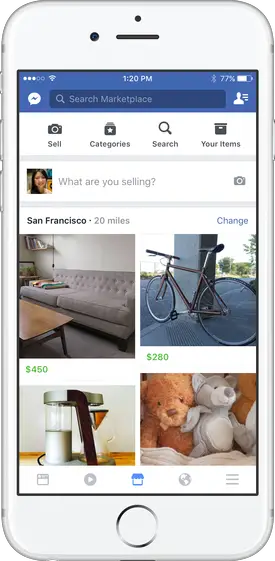 [/boombox_one_half][boombox_one_half]You can send message to the seller of any item and also place an offer of your choosing. You can also start selling by just uploading a photo, entering a name, description & price of the product, and confirming your location. You can browse items by categories and view a list of nearby listings, or search for an item. You can also change your location to find the items being sold in other cities or countries.
Facebook has not added this feature in desktop website yet and it is likely be a mobile-first initiative. The desktop feature is under development and is likely to be included in coming months.
"We saw a lot of people were really just looking at coming to Marketplace without necessarily anything in particular they were looking for," The project Manager Bowen Pan says as reported by The Verge. "They were just on Marketplace to casually browse through. This really mirrors an offline experience where you can go to a Sunday market or maybe the mall. You don't know exactly what you want but you want to browse."
[/boombox_one_half][/boombox_row]
Contrary to other e-commerce websites like eBay and Amazon, Facebook will not charge any transaction fees while buying and selling inside the Marketplace. This strategy will help the company to encourage the users to spend more time inside their app. The company is likely to boot their revenue through sponsorship and advertisements.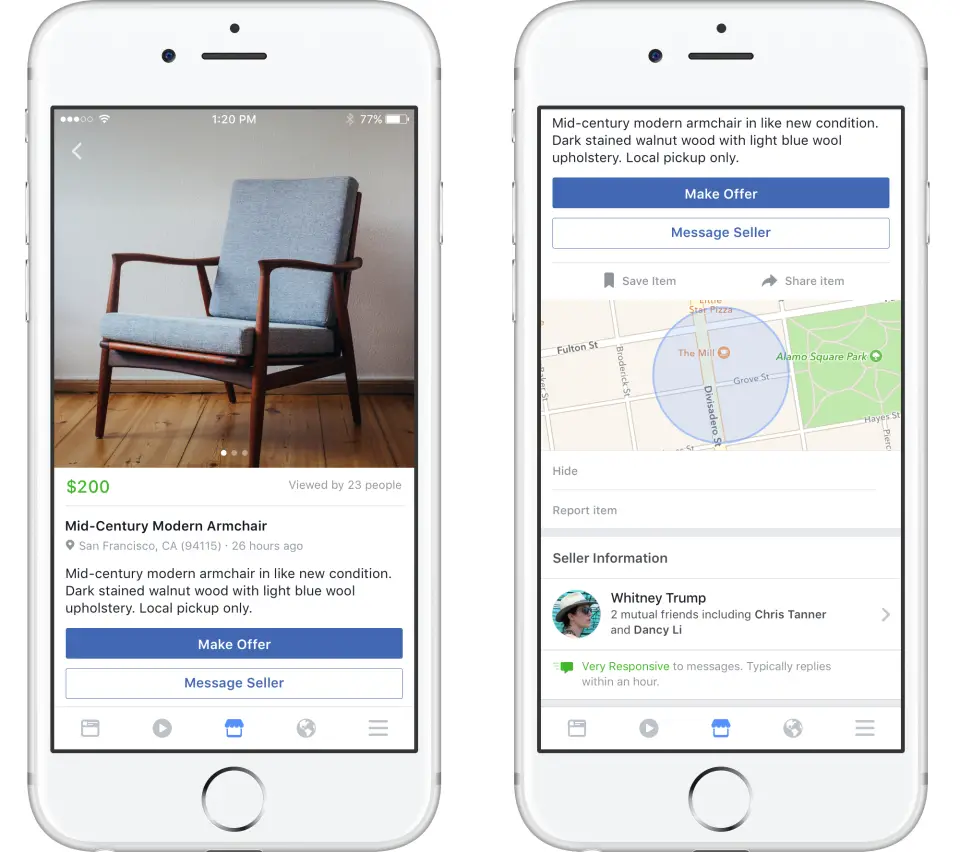 Facebook does not announce any buyer protection program like eBay and Amazon to curb the fraudulent sales so far. "We have built the tools to allow our community to report on any items that may violate our policies," Pan says. "It has well as a whole host of flags that people that can put out for people that may not be acting in the best faith. Once we see a flag, we have a team that will promptly review these and take action."
Read more: Germany orders WhatsApp to stop sharing user data with Facebook
The company is rolling out the marketplace to everyone over 18 years old in US, UK, Australia and New Zealand on the Facebook app for iPhone and Android.
To get an idea what Facebook Marketplace is all about, watch the following video posted on Facebook Marketplace official page.