Camera Effects Platform is being introduced by Facebook which includes users photo frame's creation and customization. This new feature of Facebook enables the user to make use of these frames while uploading profile pictures and videos on Facebook through the mobile apps. The Camera Effects Platform is also robust with Facebook Pages, which simply indicates that their owners can also do creation customization of profile frames for their users. prominently, Facebook's "location frames" is its answer to Snapchat's geofilters.
Facebook is focusing on to make it simpler for everyone to create profile frames that can be used by support teams, political reasons, businesses and some special events. However, according to Facebook all custom frames must stick to its regulations and other policies in order to go live. A company spokesperson said, Facebook employees will review each submitted frame to make sure it's not offensive or illegal.
Also Read: How To Upload Sharper HD Photos And Videos To Facebook From Your Phone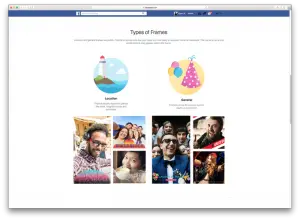 If you want to try these captivating and enchanting type frames and their customization of Facebook's new feature then just Click Here and download Facebook's templates to get started. You can use your desired design tool to make your own frame, just be sure to create a PNG with a transparent background for each element, Facebook advised. All art should be "100 percent original."
Once your frame is perfect and ready, upload the frame to Facebook, where you can preview it in different fonts, sizes and can insert other details, for instance a location and then after that submit the frame for approval. After your frame is approved, people can add it to the photos and videos they post on Facebook. You will also be able to see stats like the number of times people used your frame.
Also Read: How To Get Rid Of Facebook Annoying Ads
Facebook fans in Ireland, Columbia, Mexico, Taiwan and the UK will be able to create profile frames using the Camera Effects Platform. But it is not yet available for the U.S fans of Facebook.
The people who live in Ireland, they will also have access to some additional features, features like the ability to track frame utilization. Users can also make frames that can appear in the in-camera, in addition to seeing them appear in News Feed. Users in Ireland will be able to create location frames, which can represent neighborhoods, city or landmark. These can be shared directly within the in-app camera and used on photos and videos.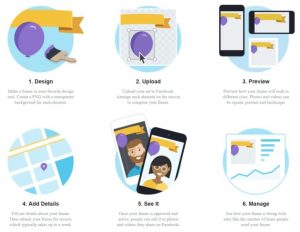 "It will make other improvements to this in-app camera, beyond this latest functionality, before it rolls out the feature worldwide', said Facebook.
The company says that the other countries including U.S will also be able to use the Camera Effects Platform in the near future, but did not talk about when the world wide launch will be.
This is not the first time that Facebook has copied Snapchat. In the past too, Facebook-owned Instagram has borrowed Snapchat's popular disappearing messages features, and it even launched Instagram Stories recently.
For more updates subscribe to our "Push Notification" service by clicking on red icon at bottom right to receive instant notifications when we publish new article. If you like this article, please help us by sharing this article on your social media profiles and by spreading good words about Lhe.io. You can also follow us on Twitter,  Google+,  Linkedin and Facebook.
Don't Miss: Facebook's Talent Recruitment Tool – New Job Feature