Facebook is the most popular social media that is being used by all age categories in the world. It has made a strongest bond between itself and its users. People are literally addicted to it. Many people call it a disaster as they see other wasting time on Facebook, while on the other hand many call it a blessing as it is a source of interaction, people can do voice calls, video calls, chatting in groups or in private window, and also Facebook has recently designed one of the unique tools that is Facebook's Talent Recruitment Tool that will help business to recruit the best applicant, introduced Snapchat-Like Features that somehow contain frames and filter of Snapchat, Live 360 just like Iphone's feature, Lets You Order Food and Book Tickets  directly from product page via mobile app, enables you to Upload HD Photos and Videos to Facebook from your phone, and many more things that you can read by Clicking Here. Continuing the traits of Facebook, lets discuss another advancement of Facebook that it has launched, "Automatic Video Captioning Feature" for the pages.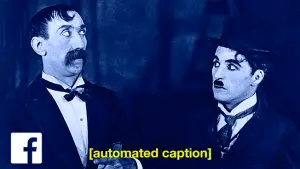 Also Read: How To Get Rid Of Facebook Annoying Ads
Automatic Video Captioning
Captions are a good way to make content accessible for the audience. Facebook can use speech recognition technology to automatically create captions for your videos. These automatic captions are generated by machine learning algorithms, so the quality of the captions may vary. With Automatic Captioning feature, admins of the Facebook pages will be able to upload subtitles SRT files with the videos or they can also automatically generate captions for videos.

Page admins will be getting an option to make correction in the subtitles if there are any mistakes in the automatically generated subtitles. The feature has silently started to roll out for pages in USA and it will be made available for everyone very in the world soon. In the present time, only English pages are availing this helpful feature and automatic subtitles are available in US English language only, for now. Whenever Page admins will upload a video, they will have two options under "Captions" tab, which are "Upload SRT file" and "Generate". Also, subtitles are break down into small fragments by Facebook with time stamps, in order to make admins enable to edit and play a segment for accuracy.
Also Read: How Does Artificial Intelligence Works? Facebook Wants To Tell You
This is simply one more way out to do digital marketing. Facebook first rolled out auto-captioning for video ads in February 2016 to get stand firmly in the competition with the competitor in advertising, YouTube. This feature will be fruitful for those users  who want to watch videos silently, particularly in public places.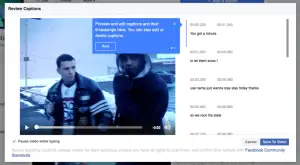 According to a survey, the social medias like Facebook and Google dominate the digital ad market, which as a result leads the charts with 57.6%. Facebook has been introducing more and more new, enchanting and cool features for its advertising so that it can gain marketers from competitors just like Youtube and Snapchat.
Also Read: Facebook Celebrating Halloween With Spooky Live Video Masks
For more updates subscribe to our "Push Notification" service by clicking on red icon at bottom right to receive instant notifications when we publish new article. If you like this article, please help us by sharing this article on your social media profiles and by spreading good words about Lhe.io. You can also follow us on Twitter,  Google+,  Linkedin and Facebook.
Don't Miss: Telenor To Close Its Services And Support Centers Across The Country